We are in the Great Resignation! Employees have determined what they will and will not accept and they are taking bold, strategic action. Are you ready to join the movement? This is a great time to begin your job search – employers are begging for top talent.
It's been said that the only thing you can do with a sociology degree is go to graduate school. Not True! What I tell my human relations and sociology students is that they can take their degree and mix it with a strong career strategy and land any job that a graduate with a degree in social work or psychology can land. I know this for sure because I've done it myself. My first job out of college was the exact job that I decided I wanted as a high school senior choosing between social work and teaching. I understood what skills to highlight, what experiences to share, and what opportunities to pursue.
I believe that what you do with your credentials and experience is what is most important to your career success. Before you get another degree or enroll in another course or program, understand that YOU are your greatest career asset. ⠀
My first-year placement in my social work graduate program was clinical even though I knew that I would never become a clinician. My internship supervisor stood firmly on the premise that all social workers needed to have clinical experience. I agreed to the placement because it fit with my work schedule at my job and met the criteria to use my work site as my field placement, not because of his prodding. He (and others) told me that I have great clinical instincts and encouraged me to pursue micro work even though I was a macro social work major. I did not and when I earned my Master's in Social Work at 35, I commanded a higher salary than my twenty-something classmates because of my experience and positioning.
You have no idea how many people told me that I need a social work license to be more marketable and have more opportunities (and I still hear it today) but I dismissed those limitations. I am not one to do what I don't want to do because of tradition or conventional thinking. As a hiring manager, I have interviewed dozens of professionals with master's degrees and multiple licenses who struggle to build a successful career. Yet, without a license, I have been able to:

Secure senior management positions⠀⠀⠀⠀⠀⠀⠀⠀⠀⠀⠀⠀⠀⠀⠀
Earn a six-figure salary⠀⠀⠀⠀⠀⠀⠀⠀⠀
Remain gainfully employed⠀⠀⠀⠀⠀⠀⠀⠀⠀
Teach undergraduate courses⠀⠀⠀⠀⠀⠀⠀⠀⠀
Supervise interns in social work, sociology, psychology, human relations, and human behavior⠀⠀⠀⠀⠀⠀⠀⠀⠀
Present at conferences⠀⠀⠀⠀⠀⠀⠀⠀⠀
Become an entrepreneur
Before you enroll in another degree program, schedule another licensing exam, or register for another workshop, let's schedule a time to talk about how you can position yourself or higher earnings and long-term career success.
NOTE: I am not saying that upskilling should not be a part of your career strategy, but that you have to make the credentials work for you because YOU are your greatest career asset.
LET'S CHAT!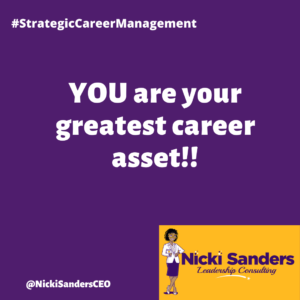 Nicki Sanders, MSW, CEO, is a Career and Empowerment Strategist who helps high-performing women of color in management go from overworked, underpaid, and unappreciated to energized, well paid, and appreciated. Through Nicki Sanders Leadership Consulting, she also helps businesses recruit, hire, train, and retain great employees. Nicki has an extensive background in developing and managing successful programs and leading high-functioning multi-disciplinary teams. She is an accomplished professor, coach, trainer, and group facilitator who has combined her gift for authentic relationships, Master of Social Work degree, and over 20 years of diverse work experience to create a life she loves. Nicki is a lover of cupcakes, travel, and 80's hip hop and R&B music.
© 2021 Copyright Protected. ALL RIGHTS ARE RESERVED.