Does any of this sound familiar?
Women are great at multitasking.
If you want something done ask a busy person to do it.
If you want something said, ask a man; if you want something done, ask a woman.
Women are consistently described as strong, resilient, talented, and a host of other labels or characteristics that may appear to be compliments on the surface but can lead us down a path to exhaustion, self-sacrifice, and burnout.
Women are leading and managing in their homes, places of worship, communities, and workplaces. As more women continue to pursue higher education and enter or remain in the workforce, we are still the primary caregivers for our children and parents and responsible for the majority of household duties once the workday ends. In sociology, this phenomenon is known as the second shift, but more on that at another time.
Boundaries are a form of personal and professional protection. Setting healthy boundaries does not mean that you aren't committed to your job, aren't a team player, or are a mean person. Establishing healthy boundaries at work allows you to be less stressed and more focused and productive. Clarifying roles and responsibilities, focusing on work/life balance, and living your values allow you to be more accomplished and fulfilled on the job and after your workday ends.
Sometimes the biggest obstacle you will face in setting healthy boundaries is you. It all starts with a decision, but be aware that feelings of self-doubt, shame, or guilt may show up. And if they do, serve them an eviction notice! Don't feel guilty for making yourself a priority.
Today I encourage you to declare that you will set healthy boundaries in the workplace.
REPEAT: I am a Super Woman, but I'm not Superwoman!
I am super awesome at what I do, but I do not have to do everything, and I will no longer try.
I will ask for what I want and what I need and delegate the things that I know that I don't need to do.
I will take pride in my work and work to the best of my ability, but I will not overwork myself for applause or approval.
I will do work that I love and give from the heart, but I will command the salary that I desire and deserve.
I will rest when I am tired and engage in activities that I enjoy and that bring me joy.
I have taken off and retired the Superwoman cape and uniform forever!
Related: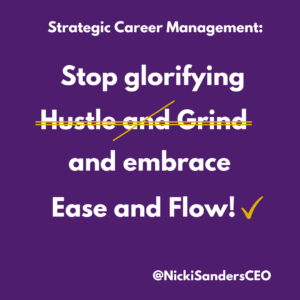 Nicki Sanders, MSW, CEO, is a Career and Empowerment Strategist who helps high-performing women of color in management go from overworked, underpaid, and unappreciated to energized, well paid, and appreciated. Through Nicki Sanders Leadership Consulting, she also helps businesses recruit, hire, train, and retain great employees. Nicki has an extensive background in developing and managing successful programs and leading high-functioning multi-disciplinary teams. She is an accomplished professor, coach, trainer, and group facilitator who has combined her gift for authentic relationships, Master of Social Work degree, and over 20 years of diverse work experience to create a life she loves. Nicki is a lover of cupcakes, travel, and 80's hip hop and R&B music.
© 2021 Copyright Protected. ALL RIGHTS ARE RESERVED.