Months ago, a family member suggested we see the movie Black Panther as a family event. Sure, works for me.  I'm really not the comic book, super hero type, but I love family activities. Then there was the hype and I started to get more interested.  I have to admit that did not come prepared.  I "dressed regular", LOL, but I was excited to see the movie.  I didn't expect to LOVE the movie, however.  This movie was amazing for so many reasons that I will try to stick to 18.
18 Reasons Why I Loved the Black Panther Movie:
Black Panther had a great plot and powerful messages. So proud of the research that went into this film. The story was based on African history and African and African American culture. #winning
Ryan Coogler. This African American writer and director did an amazing job. Ryan Coogler directed Fruitvale station at 27, Creed at 29, and Black Panther at 31. Can't wait to see what is next for him.
Representation matters. The Black stars were amazing. Great acting with heroes and sheroes that little Black boys and girls can be proud of.
Chadwick Boseman. A King indeed. So proud to see strength in the characters he has portrayed on the big screen – Jackie Robinson, James Brown, Thurgood Marshall, and now T'Challa, the King of Wakanda. Wishing him continued career success.
Michael B. Jordan, who also starred in Fruitvale Station and Creed, was the villain I loved. He wanted to protect his people and right the wrongs in the world, but his hatred made him become the kind of person he hated. I could feel his pain and abandonment which led him to become the Killmonger. I wanted him not just to live but to live the life with his family that he deserved. (the social worker in me)
Lupita Nyongo displayed passion and compassion as Nakia the spy who wanted Wakanda to spread its wealth and with the world. Beauty and brains and heart!
Letitia Wright. Oh, how I loved the genius that this woman of color in STEM brought to the big screen, Shuri made science, technology, engineering, and math fun and useful. She was not just a consumer of technology but a creator. Shuri did not wait to be saved – the inventions this princess created saved the world
Danai Gurira, General in the Dora Milaje all female army. A fierce, beautiful, intelligent warrior who stayed true to her values, integrity, and homeland. AMAZING!  #WakandaForever
Angela Basset IS the Queen.  She showed that a mother's job is never done. "Show him who you are", she tells her son before his fight for the throne. Yes ma'am, that was good parenting!!
Royalty. I loved seeing a strong, Black, royal family on the screen. They were respectful, loving and committed to each other and to their country. Black love does exist.
I am so grateful that the film showed that there is beauty in the African people, culture, and land. Everyone thought that Wakanda was a third world country, but it was really an intelligently magnificent country that was first in numerous technological advances.
Black Moviegoers. Theaters have been filled with Star Wars and Harry Potter fans in full regalia, but never have we seen Black folks show up and show out for a movie like they have for Black Panther. African attire, Black Panther costumes and t-shirts, the Black Panther challenge all make my heart soar.
Integrity – T'Challa was determined to right the wrong of his father. This included his desire to save the life of the cousin who attempted to murder him.
Tradition and culture. All of the characters honored and passed down the traditions and culture of their ancestors including T'Challa's fight for the throne.
The messages. There were so many powerful messages in this movie, including references to civilization starting in Africa, and referring to the CIA agent as a colonizer.
My favorite quote came from a dying Killmonger who refused to be saved by Wakandan technology. "Nah, just bury me in the ocean with my ancestors who jumped from ships, cause they knew death was better than bondage," he proclaimed.
Dreams do come true. The happily ever after continued after the marriage of T'Challa and Nakia. Both Shuri and Nakia were able to make the world a better place by fulfilling their professional dreams.
Wakanda Outreach Center. T'Challa bought the block. There was no gentrification happening in this film. King T'Challa bought the building where his uncle was murdered and turned it into an asset for the community.
Black moviegoers have united! Black Panther was a record-breaking movie. It is more than a movie or a moment, it is a movement.  Our ticket sales have shown that we are ready to see strong black lead characters with the same complexities and qualities as other characters.  Dear Hollywood, Black people can be more than slaves, pimps, and athletes. Bravo Black Panther.
Happy Black History Month!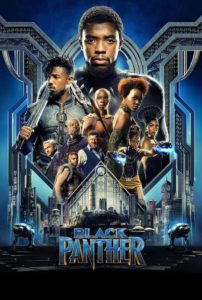 Nicki Sanders, MSW, is a cupcake lover with a passion for self-discovery and career development. She has a strong background in developing and managing interns and successful internship programs. She is an accomplished manager, professor, coach, trainer, and group facilitator who has packaged her Master of Social Work degree and 20 years of diverse work experience into Packaged For Success, a full service training and professional development company.
© 2018 Copyright Protected. ALL RIGHTS ARE RESERVED.