The success of an internship program depends on several factors including effective and efficient systems and processes.  There are many things to consider before you start an internship program in order to build it on a solid foundation. In order to implement and manage a successful program you will want to review your human resources policies and determine which ones will apply to your interns and which will not.
Rule number one is to ensure the safety of your intern. It is your responsibility to provide a working environment where interns feel valued and valuable. It is your job to make sure that your intern is not exploited because of age, enthusiasm, gender, ethnicity, or inexperience. You also want to be sure that you are not breaking any state or federal labor laws in hiring interns.
Familiarize yourself with the Fair Labor Standards Act.
Be aware of child labor laws if your intern is under age 18.
Review your hiring process to avoid age discrimination.
Make sure there are policies against workplace bullying, sexual harassment, or retaliation.
Develop a whistle blower policy to encourage honesty and integrity.
Planning ahead can save you both time and money.  Although it is best to be proactive, there are some policies and procedures that you will create that, once put into practice, will need to be revised or eliminated.  There will also undoubtedly be new policies and procedures that you were unaware that you needed until you hired your first intern.
Answer the following questions as a starting point for your plans:
Will you offer financial compensation?
Will you offer reimbursement for expenses related to the services your intern provides? For example, will you offer travel/mileage reimbursement?
Will you offer special personal days off like birthdays?
Will you offer an option to telework?
Will you offer a flexible or alternate work schedule?
Will your intern be expected to work on federal government holidays or other similar closings?
Will you allow your intern to work additional hours for special events or projects?
Will your intern be covered under accident insurance?
Will your intern be allowed to drive your company vehicle?
Will your intern be allowed to work in the office or building alone?
Will your inclement weather policy apply to your intern?
Related Articles: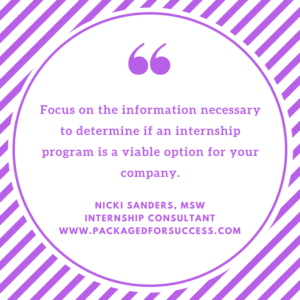 Nicki Sanders, MSW, is a cupcake lover with a passion for self-discovery and career development. She has a strong background in developing and managing interns and successful internship programs. She is an accomplished manager, professor, coach, trainer, and group facilitator who has packaged her Master of Social Work degree and 20 years of diverse work experience into Packaged For Success, a full service training and professional development company.
© 2018 Copyright Protected. ALL RIGHTS ARE RESERVED.