At the onset of every internship, I ask my interns what they want to learn, do, and gain. This, in my opinion, is the most important question to ask and the foundation for internship success. Confidence, competence, and credentials are the three pillars in my career development strategy. Each pillar can be showcased in a professional or career portfolio. A professional portfolio can be used for several purposes.  Preparing a professional portfolio could be one of the most important pieces in transitioning from intern to professional and landing a job in your chosen career field.
Every Intern Needs A Professional Portfolio
As you consider assignments and tasks for your intern, assign the development of a professional portfolio. The portfolio is both a great starting point and a great guide. It allows your intern to take ownership of their learning and skill development. The completed portfolio assignment should have a due date at the conclusion of the internship, but you should regularly check your intern's progress. As global competition continues to increase, a portfolio invaluable in highlighting what sets you apart from your competition.
Confidence
Every professional or career portfolio is unique to its' owner. A professional portfolio is a true confidence booster. A portfolio allows you to showcase your personality, interests, skills, and education in one place.  A completed professional portfolio is a collection of your best work and clearly represents your professional brand.
Tip: An intern who is confident in their skills and abilities and understands the value they bring to a company will be more productive.
Competence
A portfolio is an organized body of professional competencies. A professional portfolio shows proof of your professional experiences and skills. Your professional goals, recommendations, and commendations can all be stored in a professional portfolio. Selecting the best contents for a career portfolio requires self-reflection and self -assessment. Both you and your intern will see how they have grown and developed. A portfolio provides tangible evidence of what you have done while establishing the ground work for what you plan to do in the future.
Tip: Selecting contents for a career portfolio together will help both manager and intern to address and evaluate performance and learning.
Credentials
A strong professional portfolio assists in the planning, organizing, and documentation of credentials. Degrees, certifications, professional development trainings, college course work, and awards should all be included in your portfolio. This collection will show supervisors and potential supervisors that you take your career seriously and are ready for advancement.
Tip: A professional portfolio is a record of your formal and informal learning and qualifications.
Related Articles: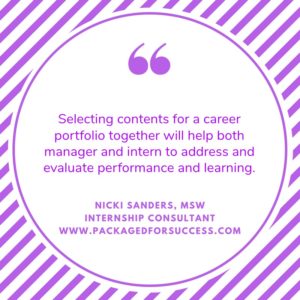 Nicki Sanders, MSW, is a cupcake lover with a passion for self-discovery and career development. She has a strong background in developing and managing interns and successful internship programs. She is an accomplished manager, professor, coach, trainer, and group facilitator who has packaged her Master of Social Work degree and 20 years of diverse work experience into Packaged For Success, a full service training and professional development company.
© 2018 Copyright Protected. ALL RIGHTS ARE RESERVED.