Packaged For Success was created to share tips and strategies for achieving success on your own terms. I love that my social work degree has allowed me to connect all my passions in my business. I love social work!
If you've been reading my blog or following me on social media for a few years you likely read my SPOTLIGHT Teen of the Month feature where I interviewed teenagers who were making a positive impact in their community.  Many of those teenagers were in foster care.  I also created a blog series where I interviewed foster care alumni and foster parents about ways we can help teens in foster care thrive.  I'm ready to pick up the interview microphone and pen again.
March is National Social Work Month. To commemorate Social Work Month, I plan to interview social workers about their social work education and careers.  The purpose of my Social Work Month blog series is to:
Promote the social work profession
Show the diversity in social work careers
Eliminate stereotypes about the social work profession
Celebrate social workers who are making a difference in the world
Fun Fact: I have never worked for child protective services or taken someone's children away
Social Workers Raise Your Hand!
Do you or someone you know fit into any of these professional categories:
Clinician/Therapist
Program Manager
Social Work Administrator
Private Practice Social Worker
Social Work Educator/Professor
Military Social Worker
Social Work Entrepreneur
School Social Worker
The job title list doesn't end there!  Social Work is a very diverse profession and I want to showcase our versatility.
If you have earned a bachelor's or master's degree in social work and have been working for at least one full year post graduation, I want to talk with you.
To nominate yourself or someone else for this Social Work Month blog series, please complete below:
Related Articles:
[contact-form-7 404 "Not Found"]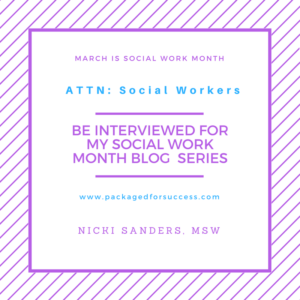 Nicki Sanders, MSW, is a cupcake lover with a passion for self-discovery and career development. She has a strong background in developing and managing interns and successful internship programs. She is an accomplished manager, professor, coach, trainer, and group facilitator who has packaged her Master of Social Work degree and 20 years of diverse work experience into Packaged For Success, a full service training and professional development company.
© 2018 Copyright Protected. ALL RIGHTS ARE RESERVED.