I am determined to continue the professional and personal progress that I made in 2018 into 2019.
-My word for 2019 is Consistency (Word for 2018)
-My These 3 Words Motivational Mantra for January 2019 is Eliminate The Excuses (These 3 Words 2018)
-My theme for 2019 is Eliminate The Excuses (Theme for 2018)
While many are spending this week making New Year Resolutions, vision boards, and goal sheets, I am evaluating ways in which I have held myself back. My very analytical brain can develop excuses that appear reasonable because they are rooted in logic but are most often based in fear. I am sure that I am not alone in this.
There are many reasons that we make excuses:
Not enough time or not the right time
Fear of failing
Fear of losing material possessions
Too many responsibilities
Believe I am unlucky
Uncertain or unsure of what I want
Financial constraints
Age (too young or too old)
Lack of access or connections
Lack of education or knowledge
Disinterest or uncommitted
We often make excuses in an effort to protect ourselves and/or someone or something we love but at the end of the day it is still an excuse. Let me give more specific examples:
I can't quit my job in February because it's our busiest month but will I quit my job in August during our slowest month?
I can't travel to Europe in 2019 because my son is graduating high school but am I determined to travel to Europe in 2020 while he is away at college?
I can't buy a new car because of my low credit score but am I actively working to rebuild my credit?
I can't turn my daughter's room into a home office because she is a furloughed government employee and may need to move back home.
Although I have been on the job 5 years, always have an excellent performance review, my colleagues look to me for assistance, I can't apply for the manager position because I don't have a degree.
These make sense right? At the end of the day they are all still excuses that can be solved or resolved.
Start your new year committed to eliminating your excuses. Here are 21 quotes to help you stay focused, motivated, and committed to achieving your big goals and dreams in 2019.
Change your thinking and you change your life.
In any given moment we have two options: to step forward into growth or to step back into safety. – Abraham Maslow
Do something today that your future self will thank you for.
Surround yourself with the dreamers and the doers, the believers and the thinkers, but most of all surround yourself with those who see greatness within you even when you don't see it yourself.
The secret of getting ahead is getting started. -Mark Twain
You don't have to figure out every step. Just the next step.
Invest in yourself. It pays the best interest.
If you want to conquer fear, don't sit home and think about it. Go out and get busy. – Dale Carnegie
Stop worrying how it's going to happen and start believing that it will.
Start where you are. Use what you have. Do what you can. – Arthur Ashe
Create the highest, grandest vision possible for your life because you become what you believe. – Oprah Winfrey
If it costs you your peace, it's too expensive.
Life begins at the end of your comfort zone.
Be stubborn about your goals but flexible about your methods.
Life is 10% what happens to you and 90% how you react to it. – Charles R. Swindoll
It does not matter how slowly you go as long as you do not stop. – Confucius
When something is important enough, you do it even if the odds are not in your favor. – Elon Musk
There are no secrets to success. It is the result of preparation, hard work, and learning from failure. -Colin Powell
The past cannot be changed. The future is yet in your power.
Set your goals high, and don't stop till you get there. – Bo Jackson
If you want something you've never had, you have to do something you've never done.
Please refer back to this blog post as needed throughout 2019.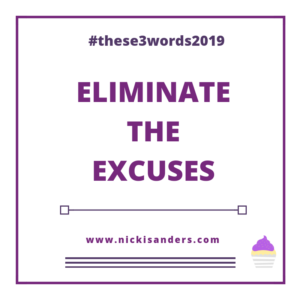 Nicki Sanders, MSW, is a travel and cupcake lover with a passion for self-discovery and career advancement. She has an extensive background in developing and managing interns and successful internship programs. She is an accomplished supervisor, professor, coach, trainer, and group facilitator who has merged her Master of Social Work degree and 20 years of diverse work experience into a thriving business. Nicki Sanders Consulting helps businesses increase employee recruitment and retention and helps managers uplevel their leadership skills.
© 2019 Copyright Protected. ALL RIGHTS ARE RESERVED.