My Theme for 2018
 Many people create New Year's Resolutions? Are you one of the millions?
I've never created and committed to any New Year's Resolution.  I usually have created an annual motto or mantra, however. In 2017, I didn't select a motto or a mantra but kicked off the year with a full concentration of my business focus – internship consulting. I selected my word of the year – available – at the end of 2017. In 2016, my mantra was Commit, Focus, Thrive. In 2015, my mantra was Be More Specific.  Whether you call it a mantra, motto, or theme, most of us have an overarching focus for the year.
I learned a lot about a lot of areas throughout my life. I've learned almost as much through trial and error as I have learned through research. Although I am a proponent of high education, I've learned almost as much through informal education as I've learned through formal education. Lack of knowledge has never been an area of concern for me. Analysis paralysis is a constant battle on the other hand. I selected a 'theme' this year because of the strong connection to my 2018 word of the year and my personal and professional goals.
My 2018 theme was selected based on the lessons I learned last year and the intention I set for my life this year. Putting my theme into practice in all areas of my life is essential if I want to see success in 2018. My theme will influence my priorities and decisions. My theme is the antidote to fear and doubt that may creep in as I prepare to leave my comfort zone. My theme will be a guiding light and gatekeeper when my old habits of perfectionism or procrastination want to stop by for a visit. My theme is just as relevant in the grocery store and bank as it is when I sit behind my computer. I will engage my theme when my natural urge to take another class, enroll in another workshop, or spend days doing research appear.
I'm sure you're saying to yourself, "Nicki, just tell me what it is". Drumroll please…
My theme for 2018 is Apply The Knowledge.
In 2018 I commit to 'Apply The Knowledge' I've acquired not only to reach my goals but to better serve you.
Related Articles:
"Cheers to a new year and another chance for us to get it right." – Oprah Winfrey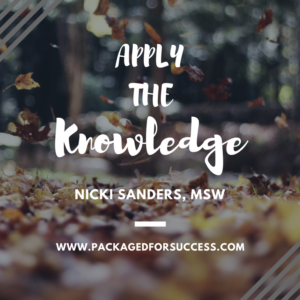 Nicki Sanders is a cupcake lover with a passion for self-discovery and career development. She has a strong background in developing and managing interns and successful internship programs. She is an accomplished manager, professor, coach, trainer, and group facilitator who has packaged her Master of Social Work degree and 20 years of diverse work experience into Packaged For Success, a full service training and professional development company.
© 2018 Copyright Protected. ALL RIGHTS ARE RESERVED.