As you search for the best and brightest intern, where you advertise the position can be as important as what the position description entails. Most managers utilize the usual opportunities such as online databases (Monster, Career Builder, Idealist, etc.) and local higher education institutions (community colleges, technical schools, and universities). If you want to attract a diverse pool of candidates you need to diversify your advertising.
The right intern for you may not be a college student at all. If you only advertise with the traditional mediums, you may miss out on the parent who is just returning to the workforce, or the professional who is changing careers, or the millennial who is saving up enough money to enroll in college.
Here are 5 additional places to advertise your internship opportunity:
Personal Network
Tell the people who know you best what you are looking for in a candidate. Share the job announcement with your family friends, and neighbors.
Professional Network
Don't overlook other professional organizations, business owners, entrepreneurs, and executives. Someone may know of a dynamic intern that wasn't a good fit for their company but is perfect for yours.
Community/Civic Organizations
The list serves and bulletin boards of fraternities, sororities, support groups, volunteer coalitions, sports clubs, and civic associations are great places to advertise.
Workforce Development/Employment Centers
This provides a continuous list of potential candidates who are specifically seeking to develop new skills and do meaningful works.
Faith-Based Institutions
Many faith-based institutions have employment and education ministries that assist members in acquiring professional training and securing employment and internships.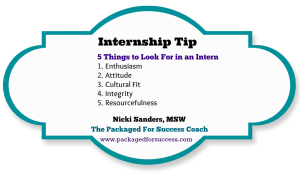 Nicki Sanders, The Packaged For Success Coach, is an Adjunct Professor with an extensive background in developing and managing internship programs. She is a skilled program manager, coach, trainer, and group facilitator who has packaged her Masters of Social Work degree and 20 years of work experience into Packaged For Success, a full service training and professional development company.
© 2016 Copyright Protected. ALL RIGHTS ARE RESERVED.