Over the past 20 years, I've either been an employee working offsite or creating my own work schedule or supervising staff who work offsite or across various sites. I have also supervised various consultants who did not work from our home/main office. Remote work, video and telephone conferences and creative supervision were a regular part of those positions. Additionally, I have been teaching 'paperless' undergraduate courses since 2014. I have also taken part in and delivered virtual coaching. I have experience in this area.

I have created a complete system, my P.A.U.S.E. Method for Building and Managing Virtual Teams, to help managers and CEOs who are new to telework or who are encountering challenges related to telework. My system is detailed and customizable for each business but I want to give you a few quick tips that can be implemented immediately. Below you can check out my Facebook video with tips.

Video: 5 Tips to Make Telework Work for You and Your Team
Be Prepared
Be Clear
Be Flexible
Be Creative
Be Committed
If you or someone in your professional network can use additional support in building and managing virtual teams, please contact me to learn how my P.A.U.S.E. Method can be beneficial. Success is possible.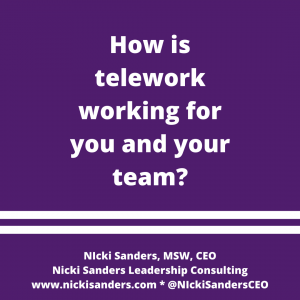 Nicki Sanders, MSW, CEO, is a travel and cupcake lover with an aptitude for authentic connection and career design. She has an extensive background in developing and managing successful programs and leading high-functioning multi-disciplinary teams. She is an accomplished professor, coach, trainer, and group facilitator who has merged her Master of Social Work degree and over 20 years of diverse work experience into a thriving business. Nicki Sanders Leadership Consulting helps businesses recruit and retain the best employees and helps women in mid-level management design the careers of their dreams.
© 2020 Copyright Protected. ALL RIGHTS ARE RESERVED.