Erica Anderson is a Licensed Masters Social Worker in Atlanta, GA. Erica is the Founder and President of the Millennial Social Work Conference which provides a creative space for new and rising social workers to gain professional development, connect with mentors, and identify the resources they need to excel and grow within an organization or as an entrepreneur. Erica is a Certified Anger Management Specialist and is currently pursuing a Substance Use certification.

Erica received her Masters in Social Work from Clark Atlanta University's Whitney M. Young Jr. School of Social Work where she was inspired by the dedication and resourcefulness of the faculty who encouraged students to think outside the box. While at Clark Atlanta University her passion for social work continued to grow and she developed key interests in substance use, mental health, and case management. Erica currently works with homeless veterans and has also become a strong advocate for substance use disorders and the effect that it continues to have on a number of communities.

Erica has always exhibited leadership qualities. In high school she was president of her class and while attending college she served as comptroller of the Student Government Association at Valdosta State University. Erica is also a proud member of Delta Sigma Theta Sorority, Inc. It was during her time in college that she had the idea to start a nonprofit organization to help her community. Erica has also facilitated anger management courses in her community. As a young leader, she believes that she is still on the path to becoming the leader she was born to be.

Erica believes that her leadership ability is just a positive aspect of who she is, she says that servitude is her leadership super power. She considers herself a transformational and servant leader. After receiving the book, " The Servant Leader" by James Autry from a mentor about a year ago, Erica says that her eyes were opened to the type of leader she wants to be and she learned how to stand out from other leaders. She believes that in order to be a good leader with a great team she must be willing to serve her team and ensure that they are prepared to take on tasks to grow and expand her goals. What Erica loves most about being a leader is teaching the people around her what she has learned on her journey and watching them grow.

The summer after completing her MSW, Erica attended two conferences. She was one of only two millennials at one conference and felt targeted and misjudged by the older attendees. She called her mentor to discuss the treatment she received and was told to "create her own". Erica realizes that her mentor was being a little sarcastic but took the words as a challenge. The Millennial Social Work Conference (MSWC) idea was born. Without a team or planning committee, Erica hosted her first conference two years ago while working a full-time job and raising her son. She was told no many times and grew frustrated during that difficult time but she succeeded.

Erica understands that millennials are vital to every aspect of society. They are no longer just the future; they are the present. She believes it is critical to properly nurture millennials so that they can continue to develop great and innovative ideas. Erica has a deep love and passion for the profession of social work and aims to create a safe space for millennial social workers to continue their education and network among their peers.
What Erica has learned on her leadership journey is that once you start to lead, others will follow. 
The proceeds from The Millennial Social Work Conference go to Loving Our Community, Inc., a nonprofit organization started by Erica. This year they will provide a scholarship to one high school student who is majoring in social work or psychology, they will award two transportation scholarships to MSW students, they will provide school supplies to a class that they will sponsor, and provide personal hygiene items for girls living in a foster home.

Erica wants to be sure that those that she leads know that their ideas are considered and valued. She wants to know what her team needs from her to be successful. The first thing she does is listen to them and the second thing that she does is ensure that she is not asking anyone to do anything that she would not do. When she asks someone to perform a task, she is either doing it with them or has done it in the past. The third thing she does is incentivize to her team how much she cares. She prefers to incentivize by implementing competitions which not only comes with rewards but pushes individuals to excel at their work.

Erica believes that compassion makes women good leaders. She loves to see a woman in leadership! She wants to share with women in leadership one of the best pieces of advice she received which is to always lead from the front. When you lead from the front others take notice more quickly. The more you stand out as a leader the more people will follow you and respect you as a leader.

Erica wants to share with others the importance of networking and having a mentor to challenge you and help you grow. She makes a point not to surround herself with bad leaders. She said that she is pretty good at identifying good leaders and clinging on tight so that she can learn as much as she can. She has learned that as a leader you definitely need to inform your team when they are doing something incorrect, but should offer them advice on how it should be done instead of just criticizing them. What Erica wishes she would have known and understood before becoming a leader is the importance of patience. "Your team will not be built overnight", she said.

Erica considers herself a workaholic who has learned to balance her life. She believes one reason that she has not burned out with her 9-5 job is because she has her own businesses on the side that she has created and enjoys. Erica is a thinker who practices self-care by being innovative and developing different ideas, solving problems, and creating businesses. Her family is a good anecdote for burnout as well. In addition to never turning her son away when he wants her attention when she is working, she also ensures that she does some sort of family activity every weekend.

Erica's favorite place for cupcakes in her hometown is Carlei's Cupcakes whose owner is 14 years old. In the metro Atlanta area, she enjoys cupcakes from Kupcakeri.
Related: Social Work Month Interview with Tiffany Walker, LSW, Founder of Pathways Toward Peace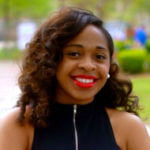 Nicki Sanders, MSW, CEO, is a travel and cupcake lover with an aptitude for authentic connection and career design. She has an extensive background in developing and managing successful programs and leading high-functioning multi-disciplinary teams. She is an accomplished professor, coach, trainer, and group facilitator who has merged her Master of Social Work degree and over 20 years of diverse work experience into a thriving business.  Nicki Sanders Leadership Consulting helps businesses recruit and retain the best employees and helps women in mid-level management design the careers of their dreams.