Tiffany Walker, LSW, is a School Social Worker, outpatient therapist, and founder of Pathways Toward Peace. Pathways Toward Peace is a New Jersey based non-profit organization, whose mission is to increase mental health literacy in faith-based organizations. 
Tiffany has always been an advocate for equity and social justice. Her life experiences as a minority student in a wealthy, predominantly White private school fueled her passion to positively impact the world. She had dreams of being a talk show host and was inspired by Oprah Winfrey. She began her undergraduate career in Communications and soon realized that was not the path for her. She was introduced to social work and completed her internship as a school social worker in a charter school. At that time, Tiffany was sure that she did not want to do therapy.
Tiffany earned her Master of Social Work degree from Columbia University School of Social Work. She was able to enroll as an advanced standing student and studied Social Enterprise and Administration. She left her management job in higher education in 2015 and that's when she began to pivot her career. She started Pathways Toward Peace in 2016 and took the social work license exam shortly after. Tiffany was inspired to connect faith and mental health advocacy by her mother's journey. She watched her mother, whom she described as a devoted wife, aunt, sister, friend, minister, and servant battle with clinical depression for a little more than two years. She was inspired by her mother's strength, yet concerned about the lack of conversation, resources and practical information available in faith-based communities about depression and other mental illnesses.
Today Tiffany clearly understands that she is passionate about management in the context of mental health and well-being. She enjoys being a school social worker and the autonomy her role allows. She is also passionate about supporting millennial women of color through life transitions. She is keenly aware of the challenges many Christian women experience as they strive to live according to God's words and church expectations. Tiffany wants women to know that healing is possible, faith is powerful and God is sovereign. To employ this work she had created a definition of functional faith which is "the recognition that life experiences have spiritual implications AND clinical impact".
Tiffany has always had the qualities of a leader but wasn't always confident in her abilities which impacted her leadership style. Now that she is securely grounded in her identity and purpose, she has found the balance between grace and grit. She believes that empathy and nurturing make women naturally good leaders but are clear that leaders are only as good as the people that they lead and serve. She believes that leaders must be able to delegate and entrust that their vision will be executed and "sometimes you have to work to cultivate those relationships" Tiffany lives by the scripture "iron sharpens iron" and loves that leadership affords her the opportunity to use what she knows to sharpen another person.
When asked what she wishes she had known before becoming a leader, Tiffany wishes that she had known how to ask for help and tap into her resources much earlier because leadership can feel lonely. Integrity is one of Tiffany's core values. Something that she learned from a bad leader is how not to make false promises and manipulate someone else's talent/hunger for her own self-interest.
Girded in the definition of functional faith, Tiffany continues to endeavor to redefine her work and seek ways both inside and outside of the church to lead women toward healing and independently define a stronger relationship with God. Tiffany's purpose is constant and her end goal is clear – private practice, training, and speaking in the context of healing. She looks to both biblical and real life examples of how leaders pivoted while practicing the art of surrender in work and life. She can now embrace the fact that she doesn't have it all together and is able to seek help from her support system.
Tiffany's leadership superpowers are empathy and transparency. Her capacity for empathy has increased while doing this work. She believes that "you can't be an effective leader in an area you haven't been afflicted in". She understands the importance of connecting with those you are meant to serve and as a clinician she is mindful to create a balance between being transparent and maintaining appropriate client relationship boundaries. For Tiffany, clinical supervision has been invaluable on this journey. She has shed her self-described self-righteous judgment and replaced her transactional relationship with God with an intimate one where she knows for sure that as she takes care of the call God has placed on her life, that God will take care of her.
Tiffany has made a point to show up for herself the way she shows up for others. She practices self-care through journaling, fresh flowers, bubble baths, cooking, and therapy. She also taps into her support system to affirm who she is and for motivation to keep pressing forward. Tiffany engages in activities outside of her work and is determined to "act her age, not her salary", as she enjoys brunches, girl's trips, and time with her family. Although she enjoys red velvet cupcakes from Crumbs Bakery, she really enjoys a good home-made banana pudding.
The advice Tiffany has for women in leadership is to have fun, pour into themselves, and never settle for a career that you love without having a life that you love. Tiffany believes that women can have both a good career and healthy family relationships. She affirms that it is OK to choose yourself over your work because it is much easier to pivot at work than to rebuild important relationships.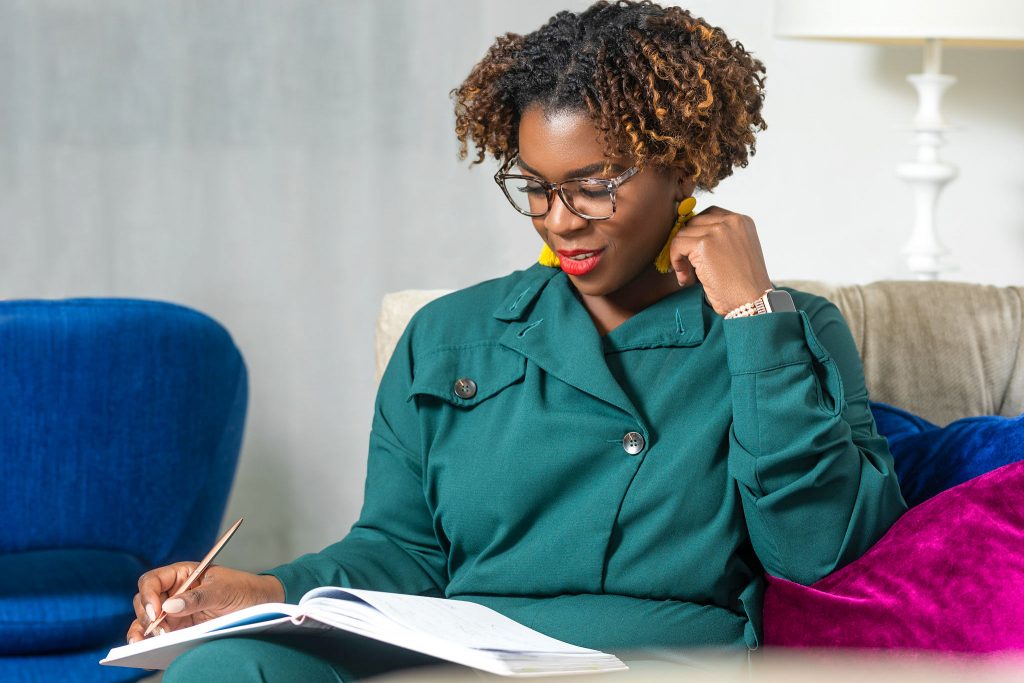 Nicki Sanders, MSW, CEO, is a travel and cupcake lover with an aptitude for authentic connection and career design. She has an extensive background in developing and managing successful programs and leading high-functioning multi-disciplinary teams. She is an accomplished professor, coach, trainer, and group facilitator who has merged her Master of Social Work degree and over 20 years of diverse work experience into a thriving business. Nicki Sanders Leadership Consulting helps businesses recruit and retain the best employees and helps women in mid-level management design the careers of their dreams.
© 2020 Copyright Protected. ALL RIGHTS ARE RESERVED.