Cupcakes and Conversations with Nicki Sanders Recap – March 2020 Episode
"If You Stay Ready, You Don't Have to Get Ready?"
In order to get ready, evaluate the following to determine threats to becoming job or career ready: 
Health and Wellness
National Disasters
Recession or Depression
Lay-Offs or Terminations
Other Threats to Your Career
Be proactive and stay ready:
Nurture Your Network
Keep Your Skills Current
Update Job Search Documents Quarterly
Remain Knowledgeable of Industry Trends
Know Yourself
View the Cupcakes and Conversations with Nicki Sanders video replay here.
Nicki Sanders Leadership Consulting is open for business and ready to help both current and new coaching and consulting clients pivot and thrive.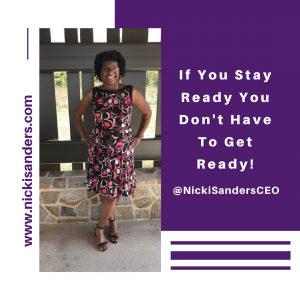 On Saturday, March 21, 2020, DJ D-Nice proved beyond a shadow of a doubt that when you stay ready, you don't have to get ready. The hip hop legend hosted an Instagram Live Social Distancing Party that lasted nearly 10 hours and entertained the likes of Janet Jackson, Joe Biden, Michelle Obama, Lenny Kravitz, Rihanna, Diddy, Ellen DeGeneres, and LL Cool J. "Club Quarantine" reached over 100,000 viewers on Saturday. He began the virtual dance party days earlier to bring smiles to those in quarantine. D-Nice used his skills to connect and uplift people from around the globe with good music and his engaging personality and energy. He gave shout outs of gratitude to those working on the front lines of the coronavirus pandemic and gained roughly 600,000 Instagram followers in one day. He also earned an unexpected income from virtual party goers who decided to send their 'club' cover charge to the DJ's CashApp. This was not only newsworthy, but probably set a Guinness World Record for the largest virtual dance party. Stay ready! Be Authentic!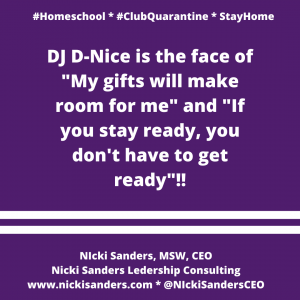 Nicki Sanders, MSW, CEO, is a travel and cupcake lover with an aptitude for authentic connection and career design. She has an extensive background in developing and managing successful programs and leading high-functioning multi-disciplinary teams. She is an accomplished professor, coach, trainer, and group facilitator who has merged her Master of Social Work degree and over 20 years of diverse work experience into a thriving business. Nicki Sanders Leadership Consulting helps businesses recruit and retain the best employees and helps women in mid-level management Get Promoted to the job of their dreams.
© 2020 Copyright Protected. ALL RIGHTS ARE RESERVED.