I have been called a professional "Mama Bear". Not because I'm threatening or aggressive (no growling here) nor because I am over-protective but because I am a fierce advocate. I admit that I take the protection (and care) of my clients, staff and interns very seriously.
I believe that parenting is the hardest and most rewarding job in the world. Similarly, managing interns can be both challenging and gratifying. Although I don't bring Mommy Nicki to the office, managing interns is  similar to parenting in many ways.
5 Ways Managing Interns is Similar to Parenting
Leadership – Your role as an intern supervisor is to teach, train, lead, and guide. Supervisors set the professional standards, assing tasks, and create a positive atmosphere.
Connection – Incorporate your intern into your team culture by building trust and a cooperative culture. Facilitate connections with other professionals who can help them on their career journey.
Clarity – Clearly explain your organization's core values and what they look like in practice. Also be clear about your policies, procedures, and systems.
Flexibility – No one is perfect and things will not always go as planned. A successful internship requires flexibility and adapting to changing situations without compromising integrity or values.
Accountability – An intern supervisor must hold the intern accountable for their actions through support and enforcement of rules and expectations.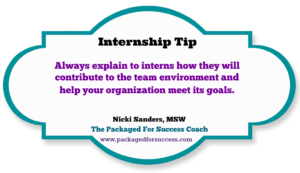 Nicki Sanders, The Packaged For Success Coach, is an Adjunct Professor with a passion for business and career development. She has an extensive background in developing and managing interns and successful internship programs. She is a skilled manager, coach, trainer, and group facilitator who has packaged her Master of Social Work degree and 20 years of work experience into Packaged For Success, a full service training and professional development company.
© 2017 Copyright Protected. ALL RIGHTS ARE RESERVED.