I Love Macro Social Work
Social workers stand up for millions of people every day. These include people who are experiencing devastating illnesses and mental health crises, our veterans, children, families and communities. Yet many people still misunderstand who social workers are and the invaluable contributions they bring to society.
This year National Association of Wocial Workers (NASW) commemmorated Social Work Month with a "Social Workers Stand Up!" campaign. The goal of the campaign was to educate the public about the contributions of social workers and give social workers and their allies tools they could use to elevate the profession.
Each year during Social Work Month I enroll in a social work contiuing education course.  This year the course I selected was "Introduction to Financial Stability for Adults" offered by my alma mater, University of Maryland School of Social Work.
Since today is the last day of Social Work Month 2017, I want to leave you with the social work article recap below: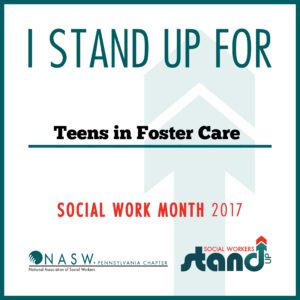 Our Annual Pack A Backpack™ Drive begins tomorrow, April 1, 2017, and ends on May 5, 2017. We are collecting backpacks (and duffel bags) filled with personal hygiene items for teen boys in foster homes, group homes, and homeless shelters. Backpacks will be delivered in May during National Foster Care Month.  Our goal is 250 filled backpacks.
Only new and gently used backpacks will be accepted.

Only new personal hygiene items needed include: toothbrush, toothpaste, mouthwash, hand sanitizer, deodorant, soap, lotion, powder, shampoo, conditioner, and shaving items.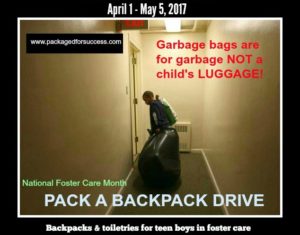 Nicki Sanders, The Packaged For Success Coach, is an Adjunct Professor with a passion for business and career development. She has an extensive background in developing and managing interns and successful internship programs. She is a skilled manager, coach, trainer, and group facilitator who has packaged her Master of Social Work degree and 20 years of work experience into Packaged For Success, a full service training and professional development company.
© 2017 Copyright Protected. ALL RIGHTS ARE RESERVED.