Social work is often divided into three broad practice categories: macro, mezzo and micro. Macro level social work is interventions provided on a large scale that affect entire communities and systems of care. Mezzo social work happens on an intermediate scale, involving neighborhoods, institutions or other smaller groups. Micro social work is the most common practice, and happens directly with an individual client or family.
I received my Masters of Social Work degree from University of Maryland, School of Social Work with a concentration in Management and Community Organization and a specialization in Social Action and Community Development. I have been able to apply my understanding of human behavior, motivation, and interpersonal connections learned in the classroom in business and nonprofit environments. The traditional  social work skills of self-awareness, empathy, setting boundaries, active listening, objectivity,  and conflict resolution are invaluable entrepreneurial tools.
As we enter an uncertain political, cultural, and economic climate in 2017, I am more grateful for my macro social work education. Not only am I prepared and ready to advocate and build, I have the ability and experience to offer organizational consulting to corporations, small businesses, colleges, nonprofit organizations, and solo entrepreneurs.
We must be the positive change we want to see in the world.
Macro Social Work skills include but are not limited to:
Organizational Development
Consultation
Needs Assessment
Public Relations
Strategic Planning
Coalition Building
Training
Coaching
Capacity Development
Program Evaluation
Program Implementation
Program Monitoring
Program Planning
Contract Monitoring
Program Development
Grant Writing/Development
Community Mapping
Board Development
Resource Development
Fundraising
Management Information Systems
Program Implementation
Quality Assurance
Community Organizing
Community Building
Staff Development
Community Mobilizing
Supervision
Policy Analysis
Legislative Advocacy
Budget Analysis
Marketing
Asset Mapping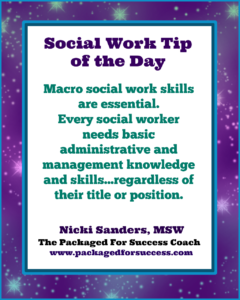 Nicki Sanders, The Packaged For Success Coach, is an Adjunct Professor with an extensive background in developing and managing internship programs. She is a skilled program manager, coach, trainer, and group facilitator who has packaged her Masters of Social Work degree and 20 years of work experience into Packaged For Success, a full service training and professional development company.
© 2016 Copyright Protected. ALL RIGHTS ARE RESERVED.