I serve as an Adjunct Professor at Trinity Washington University, as an Internship Supervisor, and as a hiring manager with nearly two decades of experience in the human services industry.  I am also an undergraduate and graduate first generation college student, college parent, and career coach. I received my Masters of Social Work degree from University of Maryland, Baltimore with a concentration in Management and Community Organization and a specialization in Social Action and Community Development. I successfully apply my degree in hiring, training, and supervising staff and students of multiple disciplines.
Three challenges that I recognize academic institutions face:
Lack of qualified internship sites available to students
Internship managers who regard interns as free labor and do not provide value work experiences
Students lack the ability to apply classroom knowledge in the field or are otherwise unprepared for the internship opportunity so companies do not want to continue the internship
I can provide solutions to all three challenges listed above. I am offering my internship program development and management consulting services to college Career Service Departments, Advisors and Guidance Counselors, Alumni Offices and Associations, and Human Services Departments.  I am also available as a guest lecturer for both undergraduate and graduate courses in Social Work, Sociology, Human Relations, Psychology, Public Health, and other helping fields.  Three key topics that I speak to students about are maximizing the internship experience, building a successful career in human services, and opportunities in macro social work.
Please feel free to contact me by email.
Related Posts: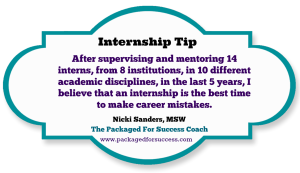 Nicki Sanders, The Packaged For Success Coach, is an Adjunct Professor with an extensive background in developing and managing internship programs. She is a skilled program manager, coach, trainer, and group facilitator who has packaged her Masters of Social Work degree and 20 years of work experience into Packaged For Success, a full service training and professional development company.
© 2016 Copyright Protected. ALL RIGHTS ARE RESERVED.