Whether launching a new initiative, completing a big project, or exceeding sales projections, interns work hard.  Just like regular employees, interns deserve to be rewarded for a job well-done.
Here are 5 ways to reward your intern.
A financial bonus (especially if the internship is unpaid)
An unscheduled day off
Recognition in a company email or newsletter
A free meal to a restaurant of their choice
Pay for your intern to attend a conference or business networking event
Let me help you create and manage your internship program for increased productivity and profits.
Related Posts: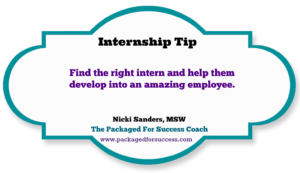 Nicki Sanders, The Packaged For Success Coach, is an Adjunct Professor with an extensive background in developing and managing internship programs. She is a skilled program manager, coach, trainer, and group facilitator who has packaged her Masters of Social Work degree and 20 years of work experience into Packaged For Success, a full service training and professional development company.
© 2016 Copyright Protected. ALL RIGHTS ARE RESERVED.