I am frequently asked what tasks an intern can perform. Some people only believe that intern should do grunt work or menial labor.  Other people practically want to turn over the reigns to the company.  Although all companies and internship programs have unique characteristics, what tasks are appropriate to assign to an intern lies someplace in the middle of those two extremes.
An intern is a student or trainee who works, sometimes without pay, at a trade or occupation in order to gain work experience. An intern is a novice. An intern is a newbie. An intern is in training.  An internship is a learning agreement and a person who is in this beginning stage should not be assigned certain tasks.
Here are 7 tasks that you probably shouldn't give your intern sole responsibility for:
Interviewing/hiring other interns – Hiring is the most important aspect of building a business because your staff can make or break your company. An intern should not be responsible for decisions that can impact your business' profitability, performance, and productivity.
Supervising other interns – A manager is an integral part of any team. A manager is the leader set sets the objectives, establishes boundaries, ensures work is being done and done well, and trains employees. An intern should not supervise other interns unless it is a management internship. Even, in a management internship, the permanent manager should always be in charge of the process and have the final say.
Launching a new department – A new department cannot successfully launch without the right team in place. No matter how experienced or competent an intern appears to be, never assign an essential or ongoing task to someone who will not be around to see it through to completion.
Securing a major client – The success or profitability of your business should never be left in the hands of someone who is inexperienced, temporary, and likely has little knowledge of your mission and vision. You want to be the face of your company.
Payroll/human resources – Handling confidential, sensitive, and legal materials and documentation should only be the responsibility of seasoned, committed, well-trained professionals. Lawsuits, gossip, altercations, and mistrust can damage your company if untrained interns are given access to private employee records.
Social media – Though many young people are digital natives who spend a lot of time on social media, do not make your intern solely responsible for creating and managing your social media campaigns. Always provide guidance and oversight and approve all posts before they go live.
Cleaning bathrooms or kitchens – Don't take unfair advantage of your interns. Unless you have a maintenance/housekeeping/janitorial internship, don't treat interns like custodians. Another exception might be a catering or event planning internship where set-up and clean up are a part of the normal process.
Related: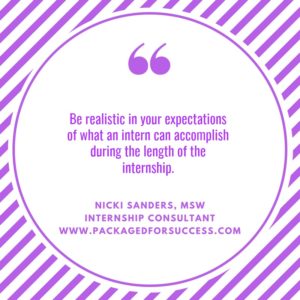 Nicki Sanders, MSW, is a travel and cupcake lover with a passion for self-discovery and career development. She has a strong background in developing and managing interns and successful internship programs. She is an accomplished manager, professor, coach, trainer, and group facilitator who has packaged her Master of Social Work degree and 20 years of diverse work experience into Packaged For Success, a full service training and professional development company.
© 2018 Copyright Protected. ALL RIGHTS ARE RESERVED.