I am a Macro Social Worker with years of experience as a group facilitator and workshop leader. I am also an Adjunct Professor at a liberal arts university. I teach a course called "Introduction to Human Relations" for emerging human services professionals.
As an example for our sessions on social class and preparation for an assignment to write an essay on a social issue, my students viewed an interview titled, 'Lisa Nichols on Rescuing Yourself, Overcoming Fear, and Finding Success by Serving Others'. My students were learning about and discussing social stratification, social mobility, capitalism, values and culture. I believe this is also a great viewing for interns. I believe that the lessons about commitment, education, goal setting, relationships, and persistence can be both inspirational and transformational. Remember, learning takes place in many forms and situations. Include presentations, videos, job shadowing, conferences, community and organizational meetings, and mentoring in your internship plan.
Related Posts: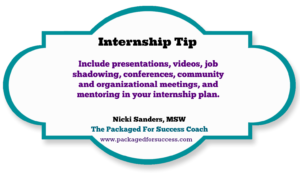 Nicki Sanders, The Packaged For Success Coach, is an Adjunct Professor with an extensive background in developing and managing internship programs. She is a skilled program manager, coach, trainer, and group facilitator who has packaged her Masters of Social Work degree and 20 years of work experience into Packaged For Success, a full service training and professional development company.
© 2016 Copyright Protected. ALL RIGHTS ARE RESERVED.