Internship – A specific time frame to complete structured activities in a closely monitored environment guided by individual learning goals describes an internship.
Two of the six Fair Labor Standards Act (FLSA) criteria that must be present in order to justify an unpaid internship are:
The internship, even though it includes actual operation of the facilities of the employer, is similar to training which would be given in an educational environment;
The internship experience is for the benefit of the intern;
Teaching and training are essential elements of successful (paid or unpaid) internships.  A good internship manager promotes open communication, provides valuable feedback, and is intentional about developing their intern. Good internship supervisors are also mentors.
Mentor
noun – an experienced and trusted adviser
verb – to advise or train
Mentoring is a teaching relationship built on mutual trust and respect. A mentor is a more knowledgeable person who helps and guides a less knowledgeable person in a particular field or in various areas of life. Mentors help interns avoid pitfalls, introduce them to the right people, provide resources, and help them reach their goals faster.  A mentor relationship can be formal or informal. January is National Mentoring Month, however, interns need mentors throughout their entire internship experience.  The experience should include someone who does or has done what the intern wants to do and freely shares tips and tools to help them succeed in their internship and beyond.
Be a mentor to your intern!
Related Articles: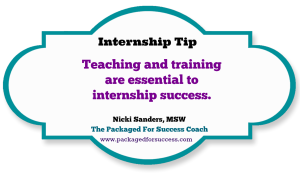 Nicki Sanders, The Packaged For Success Coach, is an Adjunct Professor with a passion for business and career development. She has an extensive background in developing and managing interns and successful internship programs. She is a skilled manager, coach, trainer, and group facilitator who has packaged her Master of Social Work degree and 20 years of work experience into Packaged For Success, a full service training and professional development company.
© 2017 Copyright Protected. ALL RIGHTS ARE RESERVED.