I am an internship consultant, a social worker, an adjunct professor, a program manager, a mother, and a New Edition super fan.  Although being a New Edition fan isn't a part of my professional bio, it is a part of my life story.  I have been "NE4Life" since 1983 when I first heard Candy Girl on the radio. I have grown up with the members and their music.
In 1983 New Edition was a group of 5 teenage friends from the projects who had big dreams but no concrete knowledge on how to launch a long-term career and build a strong brand.  They lacked business savvy and proper representation which left the group in poverty for many years after successful album releases, world tours and legions of loyal fans. Despite the challenges, setbacks, and missteps,  New Edition is still going strong in the music industry after over 3 decades..
2016 success:
New Edition Week 2017
New Edition is not only a lesson in resilience but business growth and development.  January 23 is the beginning of New Edition week in the world of NE fans.  Ronnie, Bobby Ricky, Ralph, Mike, and Johnny are finally receiving a well-deserved star on the Hollywood Walk of Fame today. Tomorrow through Thursday (1/24/17 – 1/26/17), The New Edition Story 3-night biopic miniseries will air on BET. On Friday, January 27th, Bell Biv DeVoe (BBD) will release Three Stripes, their first album in 15 years. New Edition received the Lifetime Achievement Award at the Trumpet Awards which will air on January 29th. New Edition has built a brand and a legacy.
This post is about more than a fan bragging about her favorite music group. In order to attract and retain the best and brightest interns you must make your business attractive. People have to want to connect to you, your business, and your mission. Interns want to be a part of something great.  Researching the long-term success of New Edition can help you attract and retain the best interns.

Follow these strategies:
Be authentic – Many fans have been with NE over 30 years and are attending the Hollywood Walk of Fame ceremony today. New Edition has a distinct sound and the group stays true to music their fans love and music they can be proud of.
Develop business partnerships – New Edition Enterprises is co-producing The New Edition Story with Executive Producer Jesse Collins Entertainment. They have the opportunity to tell their story in their own words.
Advertise strategically – New Edition fans have grown up with them.  They now promote their music and business ventures on R&B/urban, adult radio and television stations. They perform in places where their fans already will be in attendance like the Tom Joyner Fantastic Voyage.
Promote creativity and self-expression – In addition to the original group, New Edition has produced Bobby Brown, Ralph Tresvant, Johnny Gill as solo artists and Ricky, Michael, and Ronnie as the trio Bell Biv DeVoe.  All the members have attained success inside and outside the group.
Deliver what you promise – When you attend a New Edition concert or performance you always get the excellence you came for – fly costumes, music you love, and amazing choreography (in my opinion you get more than what you paid for). Operate in integrity.
BONUS: Share and discuss the article "5 Career Lessons You Can Learn From New Edition" with your intern.
Contact me to discuss the benefits of working with interns, potential challenges of working with interns, finding the best interns, and providing a mutually beneficial experience.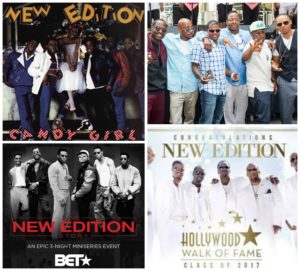 Nicki Sanders, The Packaged For Success Coach, is an Adjunct Professor with a passion for business and career development. She has an extensive background in developing and managing interns and successful internship programs. She is a skilled manager, coach, trainer, and group facilitator who has packaged her Master of Social Work degree and 20 years of work experience into Packaged For Success, a full service training and professional development company.
© 2017 Copyright Protected. ALL RIGHTS ARE RESERVED.