Following World War I, Tulsa, Oklahoma was recognized nationally for its affluent African American community known as the Greenwood District. This thriving business district and surrounding residential area was referred to as "Black Wall Street." On May 31, 1921, Dick Rowland, a black man, was imprisoned for allegedly assaulting a white woman. A mob assembles at the courthouse where Rowland is being held. In the early morning hours of June 1, 1921, white mobs invaded Greenwood, shooting African American residents, looting, and burning homes and businesses. The attack, carried out on the ground and from private aircraft, destroyed more than 35 square blocks of the district – at that time the wealthiest black community in the United States. By dawn, Black Wall Street was in ruins. Governor Robertson declared martial law at 11:30am. National Guard troops arrived in Tulsa and assisted firemen in putting out fires, took Black citizens out of the hands of vigilantes and imprisoned all Black Tulsans not already detained. Over 6,000 people were held at the Convention Hall and the Fairgrounds, some for as long as eight days. The Tulsa Race Massacre resulted in as many as 300 deaths and millions of dollars in property damage in one of the worst episodes of racial violence in American history. Many survivors left Tulsa. Black and white residents who stayed in the city were silent for decades about the terror, violence, and losses of this massacre. The Tulsa Race Riot was largely omitted from local, state, and national histories.
Systemic or institutional racism includes the policies and practices entrenched in established institutions which result in the exclusion or promotion of designated groups. It is the collection of all the established policies and practices that harm certain racial groups and help others but are so ingrained in society and life that they have been normalized.
As protests for racial justice and equality for Black people continue, the movement to support Black owned businesses has also grown. Not only is the goal to level the playing field for Black owned business, but also to boost economic development in the Black community. As a result, social media has been flooded with hashtags, resource guides, videos, Google Docs, and cell phone business directory apps including:
EatOkra
Black Wallet
Official Black Wall Street
Support Black Owned
We Buy Black
Support Black Businesses:
I will not even attempt to make an exhaustive list, but I want to promote a few Black owned businesses in my local area (Baltimore/Washington region).
Additional Black Owned Businesses:
Black Girl Sunscreen – sunscreen for women of color (@blackgirlsunscreen)
Foot Nanny – foot care products (@footnanny)
The Lip Bar – makeup for women of color (@thelipbar)
The Cut Buddy – hairline stencil guide (@thevutbuddy)
Curlbox – subscription box for curly hair (@curlboz)
Melanin Hair Care – natural hair products (@melaninharicare)
Industrial Bank – financial institution (@bankindustrial)
One United Bank – financial institution (@oneunited)
The Honey Pot – feminine wellness products (@thehoneypotco)
Vavvoune – leather accessories brand (@vavvoune)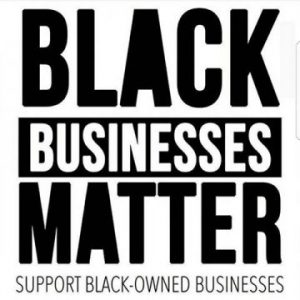 Nicki Sanders, MSW, CEO, is a travel and cupcake lover with an aptitude for authentic connection and career design. She has an extensive background in developing and managing successful programs and leading high-functioning multi-disciplinary teams. She is an accomplished professor, coach, trainer, and group facilitator who has merged her Master of Social Work degree and over 20 years of diverse work experience into a thriving business. Nicki Sanders Leadership Consulting helps businesses recruit and retain the best employees and helps women in mid-level management design the careers of their dreams.
© 2020 Copyright Protected. ALL RIGHTS ARE RESERVED.