WE ARE BACK!
We're back after our holiday break. The 4th Wednesday in November was the day before Thanksgiving and the 4th Wednesday in December was Christmas Day in 2019. The vacation is over. Let's get to work!!
BOLD AUTHENTICITY LEADERSHIP SEMINAR
"Begin With The End In Mind"
Wednesday, January 22, 2020 at 1:00pm
Virtual Session
What do you want your career to look like, feel like, and produce in 2020?
Launch 2020 with boldness and authenticity and finish the year with increased career clarity, confidence, competence, and credibility. It's time to GO ALL IN by beginning with the end in mind. Fuzzy focus and goofy goals are a thing of the past! Together we will chart a path to individual successful with specificity, structure, and strategy.
Don't miss out!! REGISTER for my January 2020 virtual Bold Authenticity Seminar on the topic "Begin With The End In Mind" at a one-time new year rate of $120.20.
REMINDER: Regular monthly investment is $197.00.
Bold Authenticity Monthly Leadership Seminars highlight the innate leadership traits women possess and combines them with traditional leadership strategies to help women become more bold, authentic, effective, and influential leaders. Join me each 4th Wednesday of the month to equip yourself with the tools to identify your personal leadership style, establish yourself as a leader, set realistic career and team goals, challenge weak female stereotypes, navigate office politics, delegate with intention, and strengthen your problem-solving, decision-making, and conflict-resolution skills. Your registration and participation in these monthly seminars will also help you nurture and leverage your professional network.
NEXT MONTH: February 26, 2020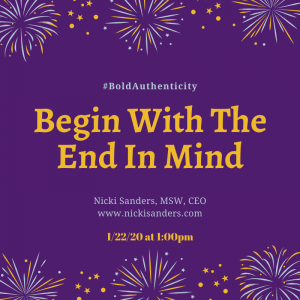 Nicki Sanders, MSW, CEO, is a travel and cupcake lover with an aptitude for authentic connection and career acceleration. She has an extensive background in developing and managing successful programs and leading high-functioning multi-disciplinary teams. She is an accomplished professor, coach, trainer, and group facilitator who has merged her Master of Social Work degree and over 20 years of diverse work experience into a thriving business. Nicki Sanders Leadership Consulting helps businesses recruit and retain the best employees and helps women in mid-level management Get Promoted to the job of their dreams.
© 2020 Copyright Protected. ALL RIGHTS ARE RESERVED.