Coffee & Cases: What You Didn't Learn in Social Work School about Building a Successful Social Work Career
ATTENTION: Current BSW and MSW students and 2018 and 2019 graduates!
Join two experienced Social Work professionals to learn and discuss the joys, challenges, and opportunities for Social Work students and recent graduates.
Laila El-Asmar, LCSW-C and Nicki Sanders, MSW, are joining together for two sessions to deliver to students and grads the truth about social work that you can't learn from a textbook or in a BSW or MSW classroom. Get ready for dynamic discussion and interactive exercises. Session one will answer your questions about field placements, degree concentrations/tracks, licensing, and whether social work really is the right field for you. Session two gets down to the nitty gritty to discuss the challenges many graduates face in launching and building a long-term social work career.
Session 1: The What, Why and How of Social Work
Session 2: Where Can Social Work Take Me?
SPECIAL INTRODUCTORY OFFER:
One session = $35 per person
Both sessions = $60 per person
**Each REGISTRATION includes one free drink
Monday, October 7, 2019; 5:00pm-6:30pm (Session 1)
Monday, November 4, 2019; 5:00pm-6:30pm (Session 2)
Filicori Zecchini – Park Potomac
12430 Park Potomac Avenue
R-3
Potomac, MD 20854
Laila El-Asmar, LCSW-C
Laila earned a Master of Social Work degree from The National Catholic School of Social Service at The Catholic University of America in Washington, DC. She completed the clinical track. Laila holds the clinical level license for the state of Maryland – Licensed Certified Social Worker-Clinical (LCSW-C). She also has a supervisor certification from Maryland Social Work Board. Laila has been in private practice for 12 years.
Nicki Sanders, MSW
Nicki earned a Master of Social Work degree from University of Maryland School of Social Work in Baltimore with a concentration in Management and Community Organization and a specialization in Social Action and Community Development. She has completed Supervision and Leadership Management Seminar, Advancing Youth Development for Supervisors, and Strengthening Your Supervisory Skills trainings. Nicki is an Adjunct Professor at Trinity Washington University and has been a hiring manager for 12 years.
REGISTER HERE for Coffee and Cases sessions.
Please share with the new and emerging Social Workers in your network.
Related:
Social Work Month Interview with Laila El-Asmar, LCSW-C
31 Things You Can Do With a Social Work Degree?
What Do Social Workers Really Do?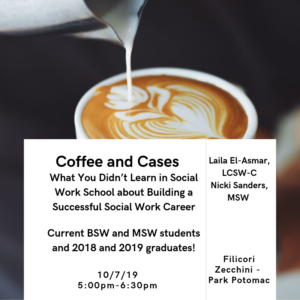 Nicki Sanders, MSW, is a Leadership and Career Strategist who helps mid and senior level women leaders develop the confidence, competence, and credibility to lead with authenticity and boldness. She has an extensive background in leading multi-disciplinary teams, developing and managing programs, and forming public-private partnerships. She is a college professor with a passion for teaching and mentoring the next generation of leaders. Nicki is an accomplished supervisor, trainer, and group facilitator who has merged her Master of Social Work degree and over 20 years of diverse work experience into a thriving business. Nicki Sanders Leadership Consulting assists companies in expanding their influence and impact by enhancing employee recruitment, increasing employee morale and performance, and decreasing employee turnover. Nicki is a travel and cupcake lover who also enjoys reading, listening to music, and serving her community.