You read the article "How to Find the Best Intern" and implemented the strategies to find the best intern for your company needs.  You read the article "5 Ways to Get the Best from Your Intern" which resulted in positive experiences for your company and your intern. Now graduation season has arrived!
If you aren't able to hire your intern as an employee the day is quickly approaching when you will have to say goodbye. You believe that you provided a valuable learning experience and your intern's work has been completed to your satisfaction and approval. You've completed the required academic evaluation forms and may now be wondering what you should do next to ensure that your internship program is effective, efficient, and sustainable.
I believe all good internship managers do two things before they send their intern out into the work world; (1) give an appropriate graduation gift for your intern that expresses your gratitude and well wishes, and (2) conduct an exit interview to understand what went well and where improvement is needed.  Trust me, there is always room for improvement.
Of course, in order to receive honest feedback, you have to have set up a culture and work environment that was safe and supportive for your intern. Exit interviews can be conducted in person before the conclusion of the internship, electronically through email or a survey software, or by telephone after the internship has officially ended.
Here are 10 sample exit interview questions:
Did this internship match your academic and career expectations?
What was most satisfying about your internship?
Do you feel you had the training, resources and support necessary to perform assigned tasks?
Were your assignments aligned with your career goals?
Did you receive adequate supervision and support?
What was least satisfying about your internship?
Based on your experience, what do you think it takes to be successful in our organization?
Did you receive adequate feedback about your performance?
Do you feel prepared to enter your chosen career field?
Is there anything else you would like to share?
Remember, the goal for your internship program is excellence and not perfection.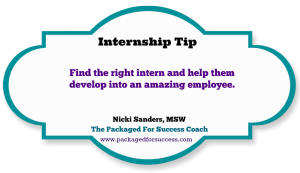 Nicki Sanders, The Packaged For Success Coach, is an experienced trainer, group facilitator, and program manager.  She has packaged her Masters of Social Work degree and over 15 years of work experience into Packaged For Success, a training and professional development company.  Packaged For Success provides career coaching to college students, entry-level job hunters, and experienced employees seeking a promotion.  Packaged For Success also offers communication and productivity improvement training for employees and supervisors and provides consultation on building sustainable, impactful, socially responsible community programs.
© Copyright Protected. ALL RIGHTS ARE RESERVED.