Expendable, misunderstood, frustrated, pressured?
They say it can be lonely at the top, but it can also be lonely in the middle. Studies have shown that mid-level managers are the unhappiest of all levels of employee – not just all levels of management. It doesn't have to be that way. I know the challenges firsthand, but I have also experienced plenty of the joys of leading from the middle.
It takes a special skill set to thrive in middle management. I have been in those shoes and I have your back. That's why I created GET PROMOTED Group Coaching Program specifically for women in mid-level management. During our 6-week virtual program, we will clarify our career values and goals as we develop professional portfolios that showcase our accomplishments and achievements.
You are invited to join other women leaders who understand you and the pressures of your position. This will be an intimate group of ambitious sisters in mid-level management. Registration is only open to 8 managers. Don't let this opportunity pass you by. The program will be offered virtually.
Are you on this fence about membership?
The GET PROMOTED Group Coaching Program is not for you if:
You feel strong pessimism about your ability to succeed in the course
You are experiencing a challenge or trauma that is preventing you from functioning at work
You feel forced or coerced by a well-meaning loved-one
You can't prioritize the work needed to succeed in the program
You want overnight results
The GET PROMOTED Group Coaching Program is for you if:
Sometimes you feel unsure if you're really ready for your next level
You feel neither your supervisor nor your team understands everything you are responsible for
Your dream job just because vacant
You want to get a head start of the new year job search rush
You've never used a professional portfolio
If you are ready to roll up your sleeves and put in the work to end 2019 strong a progress into 2020 working on a solid plan the time to enroll is NOW! Don't wait to enroll in this virtual program. Space is limited to eight (8) members. ENROLL!
.Join this intimate virtual group by November 29, 2019, for the special Black Friday investment of $497.00.[The regular investment is $997.00]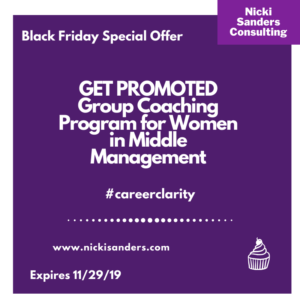 Nicki Sanders, MSW, is a travel and cupcake lover with a passion for self-discovery and career advancement. She has an extensive background in developing and managing multi-disciplinary teams and successful internship programs. She is an accomplished supervisor, professor, coach, trainer, and group facilitator who has merged her Master of Social Work degree and 20 years of diverse work experience into a thriving business. Nicki Sanders Consulting helps businesses increase employee recruitment and retention and helps women in mid-level management develop the confidence, competence, and credibility to lead with bold authenticity.
© 2019 Copyright Protected. ALL RIGHTS ARE RESERVED.