The hardest part of management is dealing with people. Management is not for the faint at heart. If I had a dollar for every time I heard someone say, "I wouldn't want your job", I would be rich.
I've talked with many people who have turned down management positions and others who took positions that relieved them of their management responsibilities. I'm rarely surprised and I am always glad that they are doing what is best for them. By putting their needs first, they are also doing what is best for the people they would be leading.
Managers motivate others by what they do and how they do it. A great manager is a teacher, coach, mentor, and supporter. They recognize the potential in their staff, encourage them to take calculated risks, offer room for growth, and provide opportunities for advancement. A great manager motivates their team by what they say, what they do, and how they do it. Most of us think of three levels of management – senior or top-level management, mid-level or middle management, and operational or frontline management.
Studies have shown that mid-level managers are the unhappiest of all levels of employee – not just all level of management. Succeeding as a mid-level manager requires a special skill set. Middle managers report feeling stuck and stressed. They are subordinates managing subordinates. Middle managers are on the front lines with staff and customers while enforcing the policies and procedures of upper management. They must navigate being in the trenches with their team and clients while also turning the vision and strategy of senior management into reality. Although their work is extremely important, middle managers are often viewed as expendable. Fears of dismissal also contribute to the frustration of mid-level managers.
As you juggle being both a leader and a follower, band together with other brilliant women on the same journey.
My GET PROMOTED Portfolio Development Group Coaching Program is specifically for women in mid-level management. Portfolios are no longer just for artists, designers, or teachers. A well put together portfolio can increase the marketability of middle managers in every discipline or profession. Together we will combine portfolios and sisterhood. Join other women who understand you and the pressures of your position. JOin other women who understand how you manage up without looking down on your staff. We will ce together virtually to uplevel our confidence, competence, and credibility as we lead with authenticity and boldness at home, at work, and in the community.
General Managers, Branch Managers, Store Managers, Program Directors, Department Head, Division Chiefs, Facilities Manager, Project Manager, Sales Managers…
If you're ready to manage your career with intention and passion, JOIN an intimate group of ambitious women managers to drop your Superwoman cape and package your talents, skills, abilities, and experiences to GET PROMOTED to your next chapter. This is a virtual coaching program.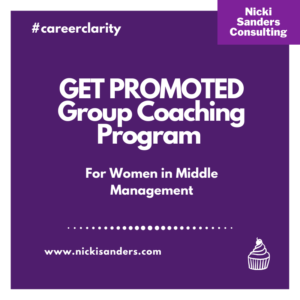 Nicki Sanders, MSW, is a travel and cupcake lover with a passion for self-discovery and career advancement. She has an extensive background in developing and managing multi-disciplinary teams and successful internship programs. She is an accomplished supervisor, professor, coach, trainer, and group facilitator who has merged her Master of Social Work degree and 20 years of diverse work experience into a thriving business. Nicki Sanders Consulting helps businesses increase employee recruitment and retention and helps women in mid-level management develop the confidence, competence, and credibility to lead with bold authenticity.
© 2019 Copyright Protected. ALL RIGHTS ARE RESERVED.