Humans are social beings. We are hard-wired for connection. Attention, affection, and attachment are what humans as a species crave. Basically, we all want to belong.
Nurturance, empathy and collaboration are considered natural characteristics i women. We are interdependent. There is strength and power in our sisterhood. When women support other women, great things happen.
I am an introvert who is naturally private, appreciates quiet, and needs regular alone time to operate at my best. Additionally, my education has trained me to set up strong boundaries. My personality and education have made me truly value real connection; relationships are important to me. I have been blessed with family, friends and colleagues who have become friends who cheer me on, hold me accountable, and have my back. I have a strong professional network and an even stronger support system. It can be lonely at the top, but it doesn't have to be.
My first piece of advice is to be authentic.
Inner peace is a component of true success. Pretending is hard, complicated and unnecessary. Begin to view your personal characteristics and experiences as assets. Share your setbacks and challenges. Realize that your authenticity not only allows people to get to know the real you, but it also gives those around you permission to be themselves.
2. My second piece of advice is to take inventory. Who are you doing life with?
Consider travel, game nights, weddings, birthday parties, shopping, concerts, volunteer opportunities, brainstorming sessions, interview preparation, mentorship, professional introductions, etc. Your inner circle should be well-rounded and supportive. Think quality over quantity. Be careful and selective in who you allow into your inner circle. No spectators and yes women allowed.
3. My third piece of advice is to be the connection you want and need.
We are all aware of the unconscious bias, stereotypes, and structural inequalities that can limit or hinder a woman's rise to the top. Jealousy, gossip, disrespect and back-stabbing have no place in sisterhood. It's time to use barriers as building blocks and lift each other as we climb. Connect with women who complement your strengths and share resources to help other women achieve their goals. Success is better when its shared.
Success doesn't happen in a vacuum. No one wins in life or business solely by their own efforts. Together we can change our world.
I invite you to share your strategies for building deep, lasting connections and also join me for Bold Authenticity Monthly Leadership Seminars.
I am also opening enrollment for GET PROMOTED Portfolio Development Group Coaching Program for Women in Mid-Level Management.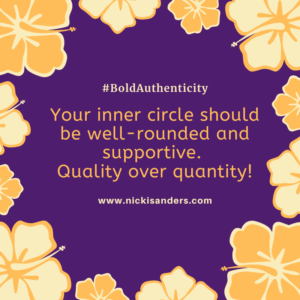 Nicki Sanders, MSW, is a travel and cupcake lover with a passion for self-discovery and career advancement. She has an extensive background in developing and managing multi-disciplinary teams and successful internship programs. She is an accomplished supervisor, professor, coach, trainer, and group facilitator who has merged her Master of Social Work degree and 20 years of diverse work experience into a thriving business. Nicki Sanders Consulting helps businesses increase employee recruitment and retention and helps women in mid-level management develop the confidence, competence, and credibility to lead with bold authenticity.
© 2019 Copyright Protected. ALL RIGHTS ARE RESERVED.