My favorite season is summer. I am the 90 degrees hazy, hot, and humid type. While others are excited for fall sweaters and cute boots, I'm reminiscing about sandals and sundresses. I like when the sun sets at 9:00pm. What I love about autumn is not the cool temperatures and shorter days. What I love about autumn is the beauty of fall foliage. I love seeing trees with red, yellow, orange, and green leaves. Fall is also harvest season.
Harvest has several meanings. Harvest is the season for gathering crops; the yield from plants in a single growing season; the gathering of a ripened crop; and the consequence of an effort or activity. It is a combination of these definitions that I will discuss today as we explore that what women in leadership need to succeed or reap a plentiful harvest is confidence, competence, and credibility.
Although we celebrate harvest season only once a year, our confident mind can allow us to experience the spirit of harvest continually. Confidence is the feeling of self-assurance that arises from an appreciation of one's own abilities or qualities. Confidence allows us to expect a harvest from our skills and our disciplined plans and actions. When we believe in ourselves, we give others permission to believe in us. When we are confident in our abilities, we can reach new heights. Each time we accept compliments or appreciation from ourselves and others we are experiencing a harvest.
Are you prepared for a career harvest? Competence is the ability to do something successfully or efficiently. Is it your time demonstrate your competence to advance, excel, and thrive as a leader? Have you planted career seeds through degrees or certifications? Have you sown into your competence through training, volunteerism or networking?
A harvest for leaders also includes our credibility. If we want to reap a bountiful harvest of productive, engaged, loyal employees, we must build our relationships and credibility with focus and intention. Just like farmers, we, as leaders, cannot reap where we have not sown. We must take consistent, disciplined actions that include setting realistic expectations, welcoming input, listening to our team, follow-up and follow through, interacting with fairness and objectivity, and keeping our word. Sowing also includes doing the right thing at the right time and admitting to mistakes and shortcomings.
Comment below to let me know what you are expecting to reap this harvest season.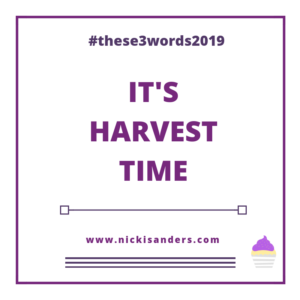 Nicki Sanders, MSW, is a Leadership and Career Strategist who helps mid and senior level women leaders develop the confidence, competence, and credibility to lead with authenticity and boldness. She has an extensive background in leading multi-disciplinary teams, developing and managing programs, and forming public-private partnerships. She is a college professor with a passion for teaching and mentoring the next generation of leaders. Nicki is an accomplished supervisor, trainer, and group facilitator who has merged her Master of Social Work degree and over 20 years of diverse work experience into a thriving business. Nicki Sanders Leadership Consulting assists companies in expanding their influence and impact by enhancing employee recruitment, increasing employee morale and performance, and decreasing employee turnover. Nicki is a travel and cupcake lover who also enjoys reading, listening to music, and serving her community.