I see you managing up while working on the ground with your team.
I understand what it's like to love your work but know that you are called for greater.
It's time to:
Drop society's expectations
Assess and evaluate your career past to carve out a new career path
Quantify your skills, talents, and assets, experiences in a comprehensive package
Undertake work that fills your wallet and fulfills your spirit
The work you do is not easy. It takes a special skill set to thrive as a mid-level manager. I have been in those shoes and I have your back. The joys and trials of my work experience are two reasons I created GET PROMOTED Group Coaching Program specifically for women in mid-level management. During our 6-week program, we will combine professional portfolios and the support of our sisters for an unbeatable career development strategy. Give yourself the gift of career advancement. It's time to define success on your own terms, establish a clear career road map, and take strategic action to get promoted to the job of your dreams.
No need to wait until January to work on your goals.
This virtual program begins on Monday, December 9, 2019, so that we end this year making progress that will launch us successfully into 2020!
You don't have to do this alone.
GET PROMOTED offers:
Convenience of joining virtually from anywhere in the world
Support and Accountability [of like-minded professional women]
Biweekly Group Calls
Tailored Growth Assignments
Access to Resources
Special Coaching Hot Seats
I am inviting you to join other women leaders who understand you and the pressures of your position. I want to help you design your unique career path. Registration is only open to 8 women. Don't miss the opportunity to connect with this winning circle.
Space is limited to 8. Don't wait to enroll. You deserve this!
Join this intimate group by November 29, 2019, for the special Black Friday investment of $497.00.[The regular investment is $997.00.]
Register HERE.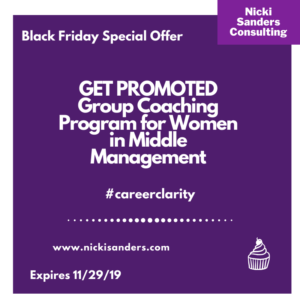 Nicki Sanders, MSW, is a travel and cupcake lover with a passion for self-discovery and career advancement. She has an extensive background in developing and managing multi-disciplinary teams and successful internship programs. She is an accomplished supervisor, professor, coach, trainer, and group facilitator who has merged her Master of Social Work degree and 20 years of diverse work experience into a thriving business. Nicki Sanders Consulting helps businesses increase employee recruitment and retention and helps women in mid-level management develop the confidence, competence, and credibility to lead with bold authenticity.
© 2019 Copyright Protected. ALL RIGHTS ARE RESERVED.