5 Reasons to Support Pack A Purse Drive™ 2019
Model generosity to family and friends – the needs are great
Filled purses allow teen girls experiencing transition to change locations with dignity
Turn your values into action
Giving feels good – especially during the holiday season
To help raise awareness about the needs of teen girls in foster homes, group homes, and homeless shelters
Foster children usually enter the foster care system due to abuse and trauma in their home. Neglect is the number one reason children are removed, followed by parental drug use. This displacement causes a unique set of emotional, social and academic challenges for them. They often experience grief, guilt, anger, sadness, loneliness, anxiety, low self-esteem, mental and physical health issues.
Some children will be separated from their siblings. Others will be bounced from one foster care placement to another. Unfortunately, others will be further abused in systems that are supposed to protect them. Still others will languish for years in foster homes or institutions instead of being safely reunified with their families — or moved quickly into adoptive homes.
According to the American Society for the Positive Care of Children:
About 22% of youth in foster care are age 13 or older.
61% of children removed from their home due to abusive neglect.
34% of children removed from their homes due to parental drug abuse.
14% of children removed due to the inability of the caregiver to cope.
12% of children removed from their home due to physical abuse.
According to Children's Rights:
On any given day, there are nearly 443,000 children in foster care in the United States.
In 2017, more than 690,000 children spent time in U.S. foster care.
On average, children remain in state care for nearly two years and six percent of children in foster care have languished there for five or more years.
While most children in foster care live in family settings, a substantial minority — 11 percent — live in institutions or group homes.
In 2017, more than 17,000 young people aged out of foster care without permanent families. Research has shown that those who leave care without being linked to forever families have a higher likelihood than youth in the general population to experience homelessness, unemployment and incarceration as adults.
You can make a difference and show teen girls in the foster care system that they matter.
If you want to become an Ambassador and host a collection site, here are 5 easy steps to Pack A Purse™ Drive collection success:
Select appropriate containers for donations and an accessible collection location.
Choose collection/drop-off dates and times.
Publicize Pack A Purse™ Collaboration — social media, canvas your neighborhood, post flyers at home, school, or work. It is essential that you acknowledge your collaboration with JaMai Sanders, It's Productive and Pampered, and/or Nicki Sanders Leadership Consulting.
Sort through all donations at the conclusion of the drive — keep new and gently used purses; discard items that are not in good condition.
Coordinate pick up and/or delivery with Nicki Sanders.
Contact me to become an Ambassador, sponsor, donor, or volunteer.
Email: info@nickisanders.com
SAVE THE DATES:
13th Annual Pack A Purse™ Drive: November 1, 2019 – December 3, 2019
Purse Packing Party: Saturday, December 7, 2019; 2:00pm-4:00pm
Ridgely's Run Community Center, 8400 Mission Road, Jessup, MD 20794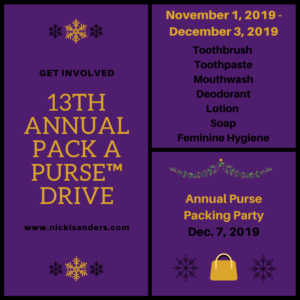 Nicki Sanders, MSW, is a travel and cupcake lover with a passion for self-discovery and career advancement. She has an extensive background in developing and managing multi-disciplinary teams and successful internship programs. She is an accomplished supervisor, professor, coach, trainer, and group facilitator who has merged her Master of Social Work degree and 20 years of diverse work experience into a thriving business. Nicki Sanders Consulting helps businesses increase employee recruitment and retention and helps women in mid-level management develop the confidence, competence, and credibility to lead with bold authenticity.
© 2019 Copyright Protected. ALL RIGHTS ARE RESERVED.