Do any of these words describe the current state of your business?
Motivating?
Profitable?
Expanding?
Exciting?
Productive?
Are you ready to go a little deeper?
Are you worried about how many times you answered "no" to the question above?
Is growing your business your number one priority?
Do you need help in your business but have more time and talent than money?
Do you have staff who are nearing retirement age and no concrete plans to save their institutional knowledge?
Are you feeling overwhelmed or frustrated by your responsibilities?
If you answered YES to any of the 5 questions above, implementing an internship program may be a good option for your business!
Not sure where to start? 
Start with a FREE Internship Program Assessment to determine if an intern is right for you and your business.
     Step 1: Request a consultation to complete the internship assessment.
     Step 2: I will review your completed assessment and make recommendations.
     Step 3: You decide which recommendation fits your business goals and we partner for your success.
Start HERE to receive your FREE Packaged For Success 20-minute Internship Program Assessment.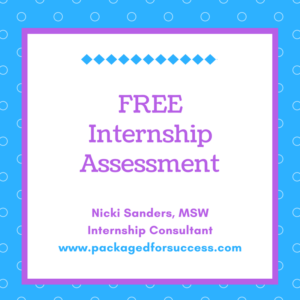 Nicki Sanders, MSW, is a travel and cupcake lover with a passion for self-discovery and career advancement. She has an extensive background in developing and managing interns and successful internship programs. She is an accomplished manager, professor, coach, trainer, and group facilitator who has packaged her Master of Social Work degree and 20 years of diverse work experience into Packaged For Success Enterprises, a full-service training and professional development company.
© 2018 Copyright Protected. ALL RIGHTS ARE RESERVED.