Firsts can be scary and exciting at the same time! Think first day of school, first love, first child, and first day of an internship.
The first topic of your intern's orientation is welcome. Everyone wants to feel welcomes.  You can ease some of your intern's anxiety with a warm welcome. Your welcome can make the first day a lot less stressful.  Interns need to know their presence is wanted.
Here are a few ways to say welcome aboard:
An introductory email
A welcome sign at their work station
Balloons or flowers
An inexpensive company gift like a pen or calendar
Morning refreshments
A special staff meeting
A casual lunch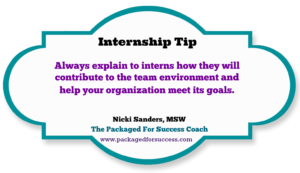 Nicki Sanders, The Packaged For Success Coach, is an Adjunct Professor with an extensive background in developing and managing internship programs. She is a skilled program manager, coach, trainer, and group facilitator who has packaged her Masters of Social Work degree and 20 years of work experience into Packaged For Success, a full service training and professional development company.
© 2016 Copyright Protected. ALL RIGHTS ARE RESERVED.