You've developed your internship handbook and planned your intern's orientation, now it's time to take the next steps and assign projects and tasks to your intern.
Always keep in mind that interns want to learn and contribute. The training that an intern receives should be similar to what would be given in an educational or vocational setting so the goal should be to assign meaningful projects that allow interns to acquire real life experience.  Here is my suggested list of tasks:
Starter Project – to help get intern acclimated to your company and build their confidence like drafting a newsletter or writing a blog
Routine Tasks – can be daily or weekly tasks such as data entry, social media posting or ordering supplies
Short-Term Project – intern can prioritize and break into smaller tasks to prevent boredom and encourage time management skills through research or editing
Group Project – allows intern to share their skills and knowledge and gain experience working with different personalities and skillsets like facilitating a workshop
Long-Term Project – to encourage autonomy, collaboration, and tie the entire internship experience together such as coordinating an event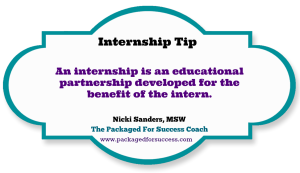 Nicki Sanders, The Packaged For Success Coach, is an Adjunct Professor with an extensive background in developing and managing internship programs. She is a skilled program manager, coach, trainer, and group facilitator who has packaged her Masters of Social Work degree and 20 years of work experience into Packaged For Success, a full service training and professional development company.
© 2016 Copyright Protected. ALL RIGHTS ARE RESERVED.