I've given you 9 things to cover during your intern's orientation session but sometimes an orientation takes place over multiple days.  Here are 5 things that your intern absolutely needs to know on their first day.
Hours – Standard hours of operation for your company as well as the days and times they are expected to work and take lunch and other breaks.
Environment – Pace of office, proper attire, technology etiquette, supplies, privacy/confidentiality policy, and designated spaces.
Supervisor – Essential to know who to report to and preferred method of communication. Best if intern only reports to one person.
Assignment – What type of work will be assigned and top priority or first assignment with due date.
Compensation – Financial compensation (salary or stipends), benefits, training opportunities and other perks.
Related Post: Should I Draft An Internship Handbook?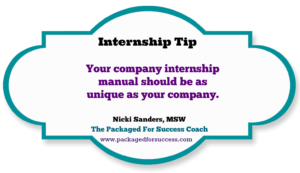 Nicki Sanders, The Packaged For Success Coach, is an Adjunct Professor with an extensive background in developing and managing internship programs. She is a skilled program manager, coach, trainer, and group facilitator who has packaged her Masters of Social Work degree and 20 years of work experience into Packaged For Success, a full service training and professional development company.
© 2016 Copyright Protected. ALL RIGHTS ARE RESERVED.