Many managers have legitimate questions or are hesitant to offer internships because of recent federal government guidelines. According to the U.S. Department of Labor, Wage and Hour Division, internship programs must meet the following 6 criteria under The Fair Labor Standards Act:
The internship, even though it includes actual operation of the facilities of the employer, is similar to training which would be given in an educational environment
Related Post: 5 Tips for Offering a Great Internship Opportunity
The internship experience is for the benefit of the intern
Related Post: Employers Have Internship Rights
The intern does not displace regular employees, but works under close supervision of existing staff
Related Post: 9 Things to Cover During Your Intern's Orientation Session
The employer that provides the training derives no immediate advantage from the activities of the intern; and on occasion its operations may actually be impeded
Related Post: What Tasks Should I Assign To My Intern?
The intern is not necessarily entitled to a job at the conclusion of the internship
Related Post: Should I Draft An Internship Handbook?
The employer and the intern understand that the intern is not entitled to wages for the time spent in the internship
Related Post: Quality Internships Are Mutually Beneficial
Quality internship programs that are legal and mutually beneficial do exist. If you're still unsure about how to meet the legal requirements, contact me so that I can help you develop a successful internship program.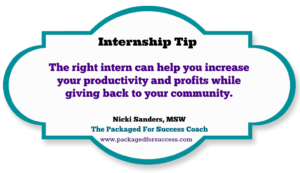 Nicki Sanders, The Packaged For Success Coach, is an Adjunct Professor with an extensive background in developing and managing internship programs. She is a skilled program manager, coach, trainer, and group facilitator who has packaged her Masters of Social Work degree and 20 years of work experience into Packaged For Success, a full service training and professional development company.
© 2016 Copyright Protected. ALL RIGHTS ARE RESERVED.