I am pleased to announce that I will be the guest for the Inaugural #MacroSW Lunch & Learn Twitter chat on Tuesday, October 30, 2018, at 12:00pm EST/10:00am PST. #MacroSW chat partner Karen Zgoda (@KarenZgoda) will host the chat.
#MacroSW will offer this new Lunch & Learn Twitter chat series on the last Tuesday of the month from 12:00pm – 12:30pm EST. Topics for the new chat series will focus on careers in macro social work practice.
The topic for this inaugural chat will be:
"Making the Most of Your Field Placement"
I invite you to join me!
Twitter Chat Questions:
Q1: What actions do you recommend students take to make the most of their internship? (especially if it wasn't your first choice)
Q2: How can an internship help me launch my career?
Related: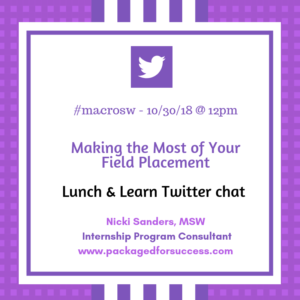 Nicki Sanders, MSW, has over 20 years of direct service experience in youth development, program planning, community engagement, and health education. Her social work management experience includes hiring, training, and supervising multi-disciplinary staff, interns, and volunteers. Nicki obtained her bachelor's degree in sociology from Trinity College and a master's degree in social work from the University of Maryland School of Social Work with a concentration in Management and Community Organization and a specialization in Social Action and Community Development.