I have successfully offered My Career Acceleration Strategy Session to various ambitious, professional women. Through this service, clients receive 60 minutes of uninterrupted time with me to develop strategies to accelerate their careers. They have rented my brain to generate ideas and creative solutions to employment questions, issues and desires. I offer insider insight from my experience as a hiring manager, internship supervisor and college professor. In the sessions, I have developed customized strategies to help my clients reach their next career goals. My clients select the singular focus of the session and have the unique opportunity to learn new trends in career development, explore new perspectives, receive tips to maintain momentum, and accept me as a new cheerleader to their career journey team.
This is the service that helps my clients Get Positioned for a long-term, successful career. Brainstorming and one on one support in implementing individualized career strategies to attain career goals is the goal. Some clients take immediate action and see immediate results and others move at a slower pace. I offer individual coaching for those who realize that they need and want ongoing support, however, the macro social worker and program manager in me is always assessing and evaluating. My reflection has led to slight changes that I believe will make a valuable impact.
I am a strategy girl, an idea generator who realizes that the responsibility for action and forward motion are the responsibility of my clients. It's kind of difficult to accelerate your career if you don't take action. I believe that words have power so I am changing the name of this service from Career Acceleration Strategy Session to Career Activation Strategy Session. We are setting the intention of forward motion at the onset of our connection.
My clients are hard working, committed women who play a variety of roles and often put themselves at the bottom of their priority list. I provide tips to maintain momentum but I am going to spend a bit more time discussing real and perceived obstacles that may prevent my clients from taking action by focusing on their career acceleration. Afterall, you can have excuses or results – not both.
Are you ready to make a commitment to yourself and register for my Career Activation Strategy Session?
I am making ten (10) slots available in my calendar for fast action takers who register between July 1 – July 7, 2020. The regular investment for this Career Activation Strategy Session is $297, but I am rewarding fast-action takers with a one week special offer of $97.00. Yes, you read that correctly. The first ten (10) women to register between July 1st and July 7th will receive this special one-time offer of one on one career guidance for $97.00. The Career Activation Strategy Session must be scheduled and redeemed by July 31, 2020. You deserve this!
New Month, New Opportunity!  Invest in your career TODAY!
Once the $97.00 payment is received, you will be sent a questionnaire via email to determine the focus and maximize our time together.
Remember to schedule our Career Activation Strategy Session by July 31, 2020
Come to the Career Activation Strategy Session prepared for exploration and implementation.
REGISTER TODAY and let's get to work!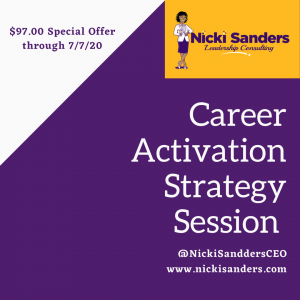 Nicki Sanders, MSW, CEO, is a travel and cupcake lover with an aptitude for authentic connection and career design. She has an extensive background in developing and managing successful programs and leading high-functioning multi-disciplinary teams. She is an accomplished professor, coach, trainer, and group facilitator who has merged her Master of Social Work degree and over 20 years of diverse work experience into a thriving business. Nicki Sanders Leadership Consulting helps businesses recruit and retain the best employees and helps women in mid-level management design the careers of their dreams.
© 2020 Copyright Protected. ALL RIGHTS ARE RESERVED.