Authenticity: Saying and doing the things that I truly believe!
Although most people who meet me think I am shy or quiet, I have always advocated for myself…and for almost everyone else LOL.
I mastered code-switching decades ago – an essential life skill for Black people.
Diplomacy is a transferable skill that has served me well both personally and professionally.
I am very observant and willing to help others excel which allows me to successfully navigate diverse environments.
There is liberation in authenticity and my liberation and authenticity are non-negotiable. At my age, in this stage in my career, and in this political and racial climate, I don't do foolishness. Everything that I do or connect to is done with intention and purpose.
"Those who do not move, do not notice their chains." – Rosa Luxemburg
As many American's are celebrating Independence Day today, I am celebrating my personal independence. Only July 4, 2018, I watched The Lion King for the first time and wrote a letter of resignation from a job that I loved but that I had allowed to take over my life. Although I didn't submit the resignation letter until May 2019, writing it and signing my name was an exercise in inner freedom that led to outer liberation and authenticity.
If you're wondering why I didn't submit the letter for ten months, it's because I was in a job that I loved and to honor my own integrity I had committed (to myself) to finishing out the program year with an intention to complete specific tasks.
How will you honor yourself and your career goals this USA Independence Day weekend?
I have made ten (10) slots available in my calendar for fast action takers who register between July 1 – July 7, 2020. The regular investment for this Career Activation Strategy Session is $297, but I am rewarding fast-action takers with a one week special offer of $97.00. Yes, you read that correctly. The first ten (10) women to register between July 1st and July 7th will receive this special one-time offer of one on one career guidance for $97.00. The Career Activation Strategy Session must be scheduled and redeemed by July 31, 2020. REGISTER TODAY and let's get to work!
More About My Career Journey: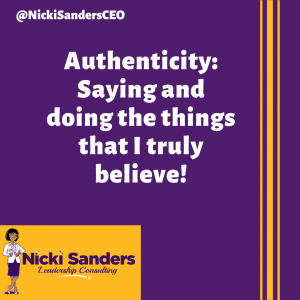 Nicki Sanders, MSW, CEO, is a travel and cupcake lover with an aptitude for authentic connection and career design. She has an extensive background in developing and managing successful programs and leading high-functioning multi-disciplinary teams. She is an accomplished professor, coach, trainer, and group facilitator who has merged her Master of Social Work degree and over 20 years of diverse work experience into a thriving business. Nicki Sanders Leadership Consulting helps businesses recruit and retain the best employees and helps women in mid-level management design the careers of their dreams.
© 2020 Copyright Protected. ALL RIGHTS ARE RESERVED.