As a Career Strategist and Coach, it is my responsibility to help you level up. I will meet you where you are but be truthful in what it will take for you to get to your next level.
Clients come to me at different life and career stages. Some clients are more prepared, or more active, or more advanced than others. From my strategy session clients I've heard:
I knew what I wanted to do but I don't know what to do first.
I am going for jobs that I didn't think in applying for in the beginning and I am making sure to tailor my resume to fit them.
Every millennial professional needs this.
I am more encouraged to start applying for jobs and recognize that I have to continue to go out and do it so that I can get the results I want.
Some clients are more ready to hear the truth and take immediate action!!
My truth is that some things like reading, research, and planning come natural to me. My natural abilities did not prevent me from making career mistakes – especially once I moved into leadership. Without the support and guidance of other professionals, my journey would have been slower and would have contained a lot more detours.
I know what it is like to know exactly what to do but be filled with so much anxiety, busy work, or practicality that you don't take action and implement the knowledge. Knowing is not enough. Application of knowledge is where there is power.
The truth is that each of us is on a different career journey and the guidance and support you need is customized to fit your unique needs and address the obstacles that may show up on your path. I have the solution.
Design your career with a Career Activation Strategy Session! There will be potholes and winding roads on your destination but we create the career GPS that is unique to you. Are you ready for the truth pill?
I have made ten (10) slots available in my calendar for fast action takers who register before by Tuesday, July 7, 2020. The regular investment for this Career Activation Strategy Session is $297, but I am rewarding fast-action takers with a one week special offer of $97.00. Yes, you read that correctly. The first ten (10) ambitious women to register by July 7th will receive this special one-time offer of one on one career coaching for $97.00. Your Career Activation Strategy Session must be scheduled and redeemed by July 31, 2020. 
The Countdown Is On! REGISTER TODAY and let's get to work!
Once the $97.00 payment is received, you will be sent a questionnaire via email to determine the focus and maximize our time together.
Remember to schedule our Activation Session by July 31, 2020
Come to the Activation Session prepared for exploration and implementation.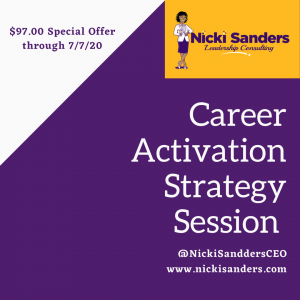 Nicki Sanders, MSW, CEO, is a travel and cupcake lover with an aptitude for authentic connection and career design. She has an extensive background in developing and managing successful programs and leading high-functioning multi-disciplinary teams. She is an accomplished professor, coach, trainer, and group facilitator who has merged her Master of Social Work degree and over 20 years of diverse work experience into a thriving business.  Nicki Sanders Leadership Consulting helps businesses recruit and retain the best employees and helps women in mid-level management design the careers of their dreams.
© 2020 Copyright Protected. ALL RIGHTS ARE RESERVED.