"Lead with passion and put action with your plans. Don't try to fit into a social work field or job description unless it inspires you", is the advice that Sydney Wilson, MSW, has for social work students and recent social work graduates.
Sydney completed one semester as a Business Communications major at Arizona State University before realizing that she wanted to work directly with people and communities. Sydney didn't know much about social work but knew that she wanted to help people fight for justice and provide the resources they needed to live a better life. She also knew that she wanted to do something other than therapy. She became a social work major. Although the scenarios and roleplays in her undergraduate social work courses had a generalist or clinical slant, during her senior year she learned about macro social work. Sydney says the feeling was like learning about a secret that no one had shared with her. Sydney earned her Bachelor of Social Work degree from Arizona State University with plans to attend graduate school for social work.
After attending Arizona State University, a predominantly White school, Sydney knew that she wanted to attend a Historically Black College and University. The only graduate program that Sydney applied to was Howard University School of Social Work where she was drawn in by how they integrated the Black Perspective into the curriculum as well as the location in Washington, DC. Sydney felt like an outsider when she first arrived at Howard University because many of her classmate had attended an HBCU for undergraduate. This was the first time in Sydney's college education that she was taught by a Black professor. She also felt like she was behind in the knowledge of her race as she was learning about many famous African Americans for the first time. Sydney was able to adapt and feels like this was exactly what she needed to see the world on a larger scale and learn new perspectives. She also felt more comfortable when sharing her own perspective and experiences. Because of her interest in women and girls' empowerment and reproductive justice, Sydney focused on social work in healthcare settings.
Sydney understands the importance of internships in gaining hands on experience and feels lucky with her placements. In her undergraduate field placement Sydney worked in a family resource center where she developed valuable social work skills including planning events, coalition building, and coordinating a parent of teens program. Sydney's first-year graduate field placement was in an early childhood education center where she was able to implement a reading club that focused on social emotional learning. She left this placement knowing that flexibility and a strong work ethic are important to a successful career. During her second-year placement, Sydney strengthened her group facilitation skills and learned the value of prioritizing tasks and resourcefulness.
After earning a Master of Social Work degree from Howard University in 2016, Sydney found employment in a youth development organization where she managed a mentor program and assisted with Saturday enrichment programs and summer camp. Sydney wanted more of a challenge and moved on to a Program Manager position with the local chapter of an agency that supports girls nationally. Sydney says that the she has grown a lot in her first ten months at her current job. She began organizing a six-week summer program just two weeks after starting the job and has continued to strengthen her macro social work skills. Sydney is now much more comfortable voicing her opinion about what is best for the girls in her program because she understands that her ideas are valid.
The three words that Sydney uses to describe the field of social work are passion, change, and (life-long) learning. She hopes that social work education will soon automatically include macro social work. What she loves about the social work field is that the field is so broad and the flexibility and diversity it offers. She appreciates that she is given the chance to educate and teach people about the field of social work and the opportunities in the field. Sydney also appreciates that ethics is important in social work and what we stand for as a profession doesn't change.
When asked what she would like to see in social work in the future, Sydney answered that that there should be a bigger emphasis on macro social work in Social Work 101 because macro social work is our foundation and history and is also an important piece of our current work. Additionally, Sydney wishes that social work programs would provide more information about licensing requirements and fees earlier so that students have more direction.
Although a social worker can become the Executive Director of a nonprofit organization or found their own nonprofit organization, Sydney wants to see the progression of social workers in grade school and higher education administration. She believes that the social work perspective needs to be heard and that we can be a part of creating a holistic learning experience for all students. Sydney is grateful for her social work education but wants to see more men of color entering the field. "Representation matters", she said, "Black and Brown boys need to see men who look like them who possess the skills to help them".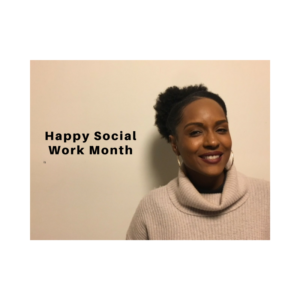 Nicki Sanders, MSW, is a travel and cupcake lover with a passion for self-discovery and career development. She has a strong background in developing and managing interns and successful internship programs. She is an accomplished manager, professor, coach, trainer, and group facilitator who has packaged her Master of Social Work degree and 20 years of diverse work experience into Packaged For Success, a full service training and professional development company.
© 2018 Copyright Protected. ALL RIGHTS ARE RESERVED.