As a Career Strategist, one of the things that I often recommend to clients is to search for and review job descriptions for jobs they may be interested in. The benefit of this task is two-fold; (1) select relevant keywords for resume and cover letter updates, and (2) as a reminder and confidence booster of your skills, experiences, and knowledge.
As I've said in the past, I am my own case study. I decided to tackle this task today because it has been so long since I've done it. I've been out of the job market for quite awhile. Below are key responsibilities and qualifications that I selected from three Project/Program/Senior Director job descriptions.
Collaborates with Executive Director n organizational direction and focus
Cultivates an approachable, innovative, and team-oriented program atmosphere
Evaluates program activities, procedures and outcomes
Develops team members to build talents and skills for growth
Supervises and provides leadership to paid staff members and volunteers
Demonstrated experience establishing program goals and objectives that support a strategic plan
Creates and coordinates relationships with key stakeholders
Responsible for designing and executing solutions for all activities related to the operations of programs
Excellent oral and written communication skills
Able to motivate and foster a team-oriented environment
Supervision, coaching, and evaluation of staff
Weekly progress review of curricula and enrichment activities
Prior experience managing and leading an after school program
Attend weekly Site Coordinator leader meetings
Ensure that project work plans are in alignment with funder requirements
Serve as programmatic liaison for both internal and external partners
Monitor and effectively manage program timelines and resources
Collaborate with development team on the development of promotional materials
Serve as programmatic liaison for both internal and external partners
Demonstrated experience working as part of a team
Strong program management skills and experience, particularly the ability to manage to annual goals and timelines
Implementation of agency's goals and objectives
Convene trainers across agencies
Ability to engage with and facilitate learning and discussion among highly accomplished professionals
Leading daily/weekly staff meetings
Completing performance evaluations for staff
Robust organizational skills and a demonstrated ability to multi-task
Establish program indicators to measure program success, quality of services and outcomes for new programs
Ensure effective implementation of new and expanded programs and initiatives
Identify and evaluate program development opportunities
Promote the use of data to plan, manage, and evaluate programs, and drive quality management activities
Effectively implement performance process to build a high-performance workforce
Lead quality improvement processes
Oversee contractual compliance, including monitoring of deliverables, corrective action, funder reports, and program audits.
Establish annual program and staff goals with programmatic performance indicators and track results
Pick three job descriptions for positions you are interested in applying to and go through the same process then let me know if you found it helpful.
If you are unsure whether you want to stay in your current role, seek a promotion, or move to a new company, then my Career Journey Map is the perfect place to start. If you know where you want to go but aren't sure exactly what to do now or next, then my Career Acceleration Strategy Session is a great place to start and get the individualized support you need.
Today (5/1/20) through May 30, 2020, I am offering a Coronavirus Career Acceleration Bundle of my Career Journey Map followed by my Career Acceleration Strategy session for $197.00. The combined value of this special offer is $394.00. REGISTER NOW! Don't miss out on a $197 savings.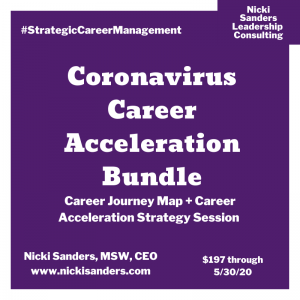 Nicki Sanders, MSW, CEO, is a travel and cupcake lover with an aptitude for authentic connection and career design. She has an extensive background in developing and managing successful programs and leading high-functioning multi-disciplinary teams. She is an accomplished professor, coach, trainer, and group facilitator who has merged her Master of Social Work degree and over 20 years of diverse work experience into a thriving business. Nicki Sanders Leadership Consulting helps businesses recruit and retain the best employees and helps women in mid-level management design the careers of their dreams.
© 2020 Copyright Protected. ALL RIGHTS ARE RESERVED.