Very few of us are untouched in some way by the Coronavirus pandemic. What are your greatest questions, concerns, or fears related to advancing your career during this time?
If you're wondering if you really can pivot or progress professionally during this time, the answer is YES.
-YES, you can Get Hired during this coronavirus pandemic.
–YES, you can Get Promoted during this quarantine.
–YES, you can leverage your skills and potential to Get Maximized while following stay at home orders. 
Now is the perfect time to evaluate your job and career field. Now is the perfect time to increase your visibility and improve your personal brand. Now is the perfect time to nurture your professional network. Now is the perfect time to show up consistently for yourself.
Companies are thinking long term. Supervisors are seeking out the leaders on their teams. Interviews are happening. Managers are hiring. Despite furloughs, layoffs, and uncertainty, your career is not cancelled.
Now is also the perfect time for job hunting because many people are afraid to move or convinced that the pandemic has halted hiring. Start now and get ahead of the rush. Three or six months from now the world may look very different and there could be a considerably higher number of candidates applying for one position than is happening right now. Since you also don't know how long it will take to land your dream job, it is better to get started now instead of procrastinating.
"Ten years from now make sure you can say you chose your life, you didn't settle for it." -Mandy Hale
YES, you can uplevel your career during the coronavirus pandemic and I can assist you in the process.
If you are unsure whether you want to stay in your current role, seek a promotion, or move to a new company, then my Career Journey Map is the perfect place to start. If you know where you want to go but aren't sure exactly what to do now or next, then my Career Acceleration Strategy Session is a great place to start and get the individualized support you need.

Now through May 30, 2020, I am offering a Coronavirus Career Acceleration Bundle of my Career Journey Map followed by my Career Acceleration Strategy session for $197.00. The combined value of this special offer is $394.00. Register now! Don't miss out on $197 savings.
Strategic Career Management Services:
Career Journey Map – Enroll to determine whether to stay in your current role, seek a promotion, or begin your job search [Get Started]
Career Acceleration Strategy Session – Brainstorming and support in implementing individualized career strategies to attain your career goals [Get Started]
Career Acceleration Plan with GAP Analysis – Gain career clarity through the process of skills evaluation, strategy implementation, and the of assembling a professional portfolio [Get Hired]
Career Advancement Plan with SWOT Analysis – Increase professional skills and credibility and minimize risks in the workplace [Get Promoted]
Career Ascension Plan with BRAND Analysis – Continue to strengthen your professional brand and align your career with your values, lifestyle, and financial needs [Get Maximized]
Individual and Group Coaching – Different career coaching packages available to support ambitious professionals in leveling up their careers and support businesses in maintaining an effective and engaged workforce.
What do you need to move your career forward? I am ready to serve!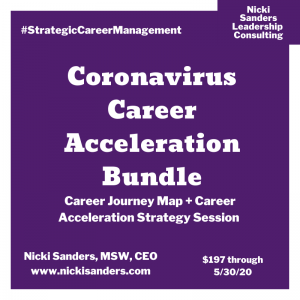 Nicki Sanders, MSW, CEO, is a travel and cupcake lover with an aptitude for authentic connection and career design. She has an extensive background in developing and managing successful programs and leading high-functioning multi-disciplinary teams. She is an accomplished professor, coach, trainer, and group facilitator who has merged her Master of Social Work degree and over 20 years of diverse work experience into a thriving business. Nicki Sanders Leadership Consulting helps businesses recruit and retain the best employees and helps women in mid-level management design the careers of their dreams.
© 2020 Copyright Protected. ALL RIGHTS ARE RESERVED.