Do you have a landline in your home or is a cellular phone the only phone at your house? I haven't seen a public pay phone in years.
In the 1980's, we spent hours on the phone at home talking to friends. If you were lucky you had call waiting and three-way calling. Stationary wall phones were improved with moveable phones with long cords that could be carried across the room. I still remember when we got our first cordless home phone.
In the 1990's, pagers allowed us to respond to family and friends even if we weren't at home. We stopped to find the nearest pay phone or used someone's residential phone to respond before car phone prices decreased enough for more Americans to afford.
In the 2000's, mobile flip phones with texting options paved the way for smart phones with video call capability. Kids and adults alike have complete conversations through text message.
Smart phones allow us to add additional callers and merge calls. Businesses, higher education institutions, and online entrepreneurs have used webinars, conference calls, and other group communication platforms like GoToMeeting, Blackboard and Trello for years.
In March 2020, the global coronavirus pandemic forced the world to quarantine at home and simultaneously sky-rocketed the use of Zoom, Google Meet, and other video chat platforms almost exclusively. Students of all ages, workers in various industries, and families have been forced to keep it touch over computer screens. I am against meeting for the sake of meeting, attending meetings that should have been an email, and looking at people on a computer screen when the interaction would normally happen on the telephone.
Are telephone calls extinct? I hope not. It sure seems like they have been added to the endangered species list!
I am a teacher, trainer, coach, and lover of people, but I am "zoomed" out. I love connecting in person but as a natural introvert and empath, video chats drain both my energy and productivity.
Video calls can be intrusive and seem like an invasion of privacy – yes, even for people who have nothing to hide.
Remember that people are in their homes with their families so developing unrealistic video requirements can add additional and unnecessary stress.
Looking at employers on a screen isn't always the most efficient or effective way to communicate.
Requiring students to have their cameras on can invite opportunities for bullying and teasing.
A first interview that would have been a phone screening under normal circumstances a year ago should not be a video interview today.
If I met a potential client or business collaborator online and wanted to schedule a time to "chat" with them, my first meeting will be a phone call – just like it would have been in 2019. Going straight to video calls is moving too fast for me LOL.
I am my staff had been teleworking frequently for the last few years. My business coach and I have never lived in the same state, so our coaching sessions have always been phone or video. At the beginning of the pandemic last year, I did a training to help employers successfully adapt to teleworking. I want to add to the advice I gave last year. Are you ready?
Productivity Tip of the Year: Stop requiring every communication to happen on video
How are you doing a year into this pandemic?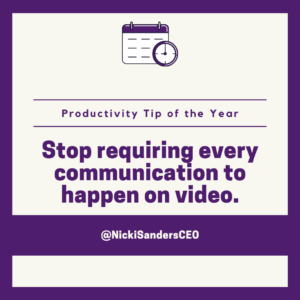 Nicki Sanders, MSW, CEO, is a Career and Empowerment Strategist who helps high-performing women of color in management go from overworked, underpaid, and unappreciated to energized, well paid, and appreciated. Through Nicki Sanders Leadership Consulting, she also helps businesses recruit, hire, train, and retain great employees. Nicki has an extensive background in developing and managing successful programs and leading high-functioning multi-disciplinary teams. She is an accomplished professor, coach, trainer, and group facilitator who has combined her gift for authentic relationships, Master of Social Work degree, and over 20 years of diverse work experience to create a life she loves. Nicki is a lover of cupcakes, travel, and 80's hip hop and R&B music.
© 2021 Copyright Protected. ALL RIGHTS ARE RESERVED.