Let's get this straight…again!
Black Girls Rock! Is not racist.
Black people are the group that is marginalized and in the minority. We can be biased and prejudiced, but we lack the power and privilege to be racist.
Representation Matters. Black Girls Rock! counters the images of Black women fighting on reality tv, being abused in large numbers in movies, and the over-policing that leads to the arrests we see daily on the news. Black Girls Rock! Counters those numerous negative stereotypes and myths with Black Excellence.
Celebrating me is not condemning or excluding you. You didn't get a cake and gifts at your sibling's birthday party, did you? No because it wasn't your day, and the celebration wasn't about you. Same applies here. It's our time to shine, because the fact is that we still don't have the opportunity very often. Just like with the Latin Grammy's, we get to have a little something of our own in this great big world of being "othered".
We need a safe space to be our amazing selves. No one understands us like us. Black women face a unique set of obstacles and landmines because we are Black and because we are women. Supporting, empowering, and encouraging each other helps us progress both individually and collectively. Sisterhood is self-care. Sisterhood is essential.
Black Lives Matter. Remember those diversity, equity, and inclusion (DEI) promises we all heard in 2020? This is another opportunity for the anti-racism allies to speak up and remind their counterparts that Black Lives Matter.
BLACK GIRLS ROCK! TV is launching on June 18, 2021.
Get your daily dose of #BlackGirlMagic with empowering and inspirational content for Black women at blackgirlsrock.com.
The Queen of Funk @chakaikhan will join forces with @rockhall inductee @therealphilcollen of @defleppard in an epic, exclusive collaborative performance at the BLACK GIRLS ROCK! 15th Anniversary Fundraising Gala. A night celebrating Black women from across the globe takes place at the 15 Year Anniversary Fundraising Gala streaming LIVE on BGR!TV June 18th!
Video: Black Girls Rock! Trailer: Beverly Bond Explains the Black Girls Rock! Mission
Related: Black Girls Rock Is Not Racist
Let's celebrate, showcase, and support!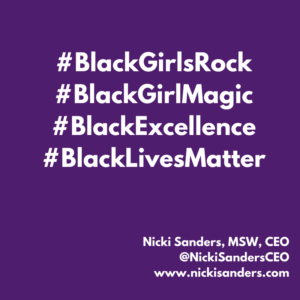 Nicki Sanders, MSW, CEO, is a Career and Empowerment Strategist who helps high-performing women of color in management go from overworked, underpaid, and unappreciated to energized, well paid, and appreciated. Through Nicki Sanders Leadership Consulting, she also helps businesses recruit, hire, train, and retain great employees. Nicki has an extensive background in developing and managing successful programs and leading high-functioning multi-disciplinary teams. She is an accomplished professor, coach, trainer, and group facilitator who has combined her gift for authentic relationships, Master of Social Work degree, and over 20 years of diverse work experience to create a life she loves. Nicki is a lover of cupcakes, travel, and 80's hip hop and R&B music.
© 2021 Copyright Protected. ALL RIGHTS ARE RESERVED.