If you are having a hard time staying motivated or being productive in your current role, it's time to ask yourself why. It's time to evaluate the type of work you do, who you work with and for, and why you are working at your current place of employment.
Yes, unemployment is on the rise. Yes, businesses are closing. Yes, people have lost their income. But those things don't mean you have to be stuck in a place that no longer serves you. You can be grateful for the job you have and still want more. You deserve it.
Stop telling yourself that "it's not that bad", or "I can't leave in a pandemic", or "I have a lot of flexibility here", or any number of other excuses you accept to validate the sacrifice of your inner peace and professional fulfillment. The time has come to design and direct your career instead of accepting whatever comes your way. You deserve it.
Grab a pen and paper:
Where is the place you want to work? City, state, company?
Do you want to perform routine tasks or have a job where every day is different?
Are you more of a numbers person or a people person?
Are you willing to commute on pubic transportations or do you want to work close to home?
Do you enjoy telework or are you about that cubicle life?
What is the salary that you desire?
Do you want to work full-time or part-time?
Do you want to use your degree or change career paths?
Is autonomy important or do you want to be assigned specific tasks to complete in a specific way?
Each of these questions is important in designing and directing your perfect career. Careers are not one size fits all. What worked for your husband or sister may not work for you and that is OK. You have one life. You get to choose your career path.
If you are seeking career clarity or you know exactly what you want in a career but are unsure how to achieve it, then let's talk.
I could give you my background and credentials but the truth is you can find that online.
I will leave you with this, "career development and advancement is what I do and I'm great at it"! Are you ready to transform your career?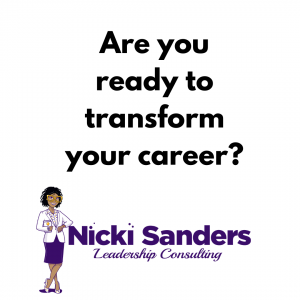 Nicki Sanders, MSW, CEO, is a travel and cupcake lover with an aptitude for authentic connection and career design. She has an extensive background in developing and managing successful programs and leading high-functioning multi-disciplinary teams. She is an accomplished professor, coach, trainer, and group facilitator who has merged her Master of Social Work degree and over 20 years of diverse work experience into a thriving business. Nicki Sanders Leadership Consulting helps businesses recruit and retain the best employees and helps women in mid-level management design the careers of their dreams.
© 2020 Copyright Protected. ALL RIGHTS ARE RESERVED.