If you've ever talked with me for a significant amount of time or you have been reading my blog for a significant amount of time, then you know that I absolutely love New Edition. I have loved new Edition since the song Candy Girl was released in 1983. I love All Six New Edition members – Ronnie, Bobbie, Ricky, Mike, Ralph, and Johnny. I am a true NE4Lifer and have written two blogs with career advice you can gleam from my favorite music group.
No family, no company, and no music group is perfect. Ronnie, Bobby, Ricky, Mike, Ralph, and Johnny have returned to an unfortunate familiar state of conflict. Here is a brief New Edition drama synopsis:
Bobby was kicked out of the group in 1986 and went solo.
Johnny was voted into the group in 1987 to replace Ralph when Ronnie, Ricky, and Mike feared they would be without a lead singer.
Bell Biv DeVoe (BBD) have performed without the other three members for two decades and Johnny frequently tours with other R&B acts.
In 1997, all six members came together to gift us with the Home Again album and tour. The members got into physical altercations, missed appearances. I am not a blind supporter and refused to spend my money to support the unprofessional behavior.
Ralph, Johnny, and Bobby formed Heads of State in 2008. I attended the concert in Washington, DC.
Currently Ronnie, Bobby, Ricky, and Mike are on the RBRM tour while Ralph and Johnny are touring separately with Keith Sweat and Charlie Wilson.
I'm not sure when or how this latest conflict will end but I do hope that 40 years of friendship will prevail, and the members will reunite as brothers and as musicians.  I want new New Edition music and another All Six tour.
Have you had conflict amongst your interns or employees? What can you do if your interns are not getting along? Here are a few ways for managers to handle workplace conflict.
The first thing to do is acknowledge the conflict. Letting the conflict fester can lead to deeper division among your team. Address the issues directly with the parties involved. Do not let other interns and employees take sides.
Allow each party to express their feelings openly and without judgment. Determine if you bring the parties together or talk with them one on one first. Ask for facts and not just feelings. Stress that you are seeking positive a resolution, not looking to place blame.
Find the common ground in the stories or complaints.
Be positive and seek compromise, not sacrifice. Ensure that both parties are able to let go of negative feelings and move forward so that similar disagreements or issues do not arise between them again.
Be sure everyone understands the final decision. Depending on the outcome of your investigation and mediation, the resolution may be a return to normal tasks and processes, reassignment, or termination.
Be open, be fair, be intentional and be optimistic.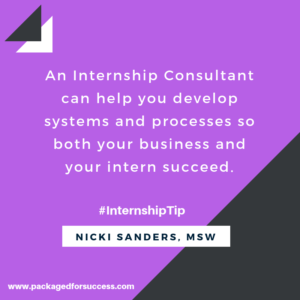 Nicki Sanders, MSW, is a travel and cupcake lover with a passion for self-discovery and career development. She has a strong background in developing and managing interns and successful internship programs. She is an accomplished manager, professor, coach, trainer, and group facilitator who has packaged her Master of Social Work degree and 20 years of diverse work experience into Packaged For Success, a full service training and professional development company.
© 2018 Copyright Protected. ALL RIGHTS ARE RESERVED.