Cupcakes and Conversations with Nicki Sanders is a monthly virtual session for professional women held on the second Wednesday at 1:00pm focused on leadership, career advancement and sisterhood. During the month of November, I decided to create a Facebook Live series on the Nicki Sanders Leadership Consulting Facebook page. The series is titled, "3 Questions Mid-Level Managers Need To Look In The Mirror And Ask…But Only If They're Ready To GET PROMOTED".
Join the series on Facebook live at 1:00pm:
Question #1 – 11/13/19
Questions #2 – 11/20/19
Questions #3 – 11/27/19
This mid-level manager absolutely LOVED her previous work as Director of Programs! She loved her team and the impact they were able to make together in the lives of 600 teen girls. It is work that I am humbly proud of.

Despite the many great things I was able to engage in and accomplish, I had to look in the mirror and ask myself the hard question. Question #1 – "What do I really want in my career?" I pulled back the multiple layers of love and joy, frustration and challenge to arrive at the answer that sets my soul on fire today! It was time to get promoted by leaving the role and agency I loved. The truth is that the inner work had just begun.

I knew that full-time entrepreneurship was my next chapter. But why did I want to build a business instead of joining another agency? Question #2 – "Why". I asked myself why I want what I want. Knowing your "why" is crucial. A strong why is motivation to keep moving forward when things don't go according to plan. Asking why also is important because it required me to examine my values. My values are my guiding force when making decisions. By reflecting on my values, I was also able to determine my non-negotiables – what I am unwilling to do and why, as well as what items made it to the top of my priority list. By exploring my values, I was able to determine what success means to me.

My journey to career clarity is the main reason that I created GET PROMOTED Group Coaching Program specifically for women in mid-level management. During our 6-week virtual program, we ask and answer the hard questions with the support of our sister circle and develop comprehensive professional portfolios. A career portfolio is a key part of a strong career development plan. Selecting contents for a career portfolio allows opportunities to evaluate past performance and learning, outline new professional development strategies, and stand out in performance reviews and job interviews.

Give yourself the gift of career advancement for Black Friday! Join GET PROMOTED Group Coaching Program to define success on your own terms, establish a clear career road map, and take strategic action to get promoted to the position of your dreams.
Space is limited to 8. This is a virtual program. Don't wait to enroll. Join this intimate group of women leaders by November 29, 2019, for the special Black Friday investment of $497.00.
[The regular investment is $997.00.]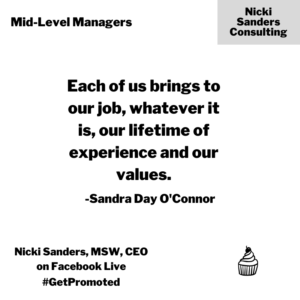 Nicki Sanders, MSW, CEO is a travel and cupcake lover with a passion for self-discovery and career advancement. She has an extensive background in developing and managing multi-disciplinary teams and successful internship programs. She is an accomplished supervisor, professor, coach, trainer, and group facilitator who has merged her Master of Social Work degree and 20 years of diverse work experience into a thriving business. Nicki Sanders Consulting helps businesses increase employee recruitment and retention and helps women in mid-level management develop the confidence, competence, and credibility to lead with bold authenticity.
© 2019 Copyright Protected. ALL RIGHTS ARE RESERVED.