Do you have a reminder set for Wednesday, November 27, 2019, at 1:00pm?
Don't miss this last installment in "3 Questions Mid-Level Managers Need To Look In The Mirror And Ask…But Only If They're Ready To GET PROMOTED". I'm looking forward to seeing you on Facebook.
I've covered questions #1 and #2 in my Facebook Live series on my Nicki Sanders Leadership Consulting Facebook page.
The first questions that I asked mid-level managers was "what do you really want in a career". (11/13/19)
The second question that I asked mid-level managers was "why". (11/20/19)
We covered whether it's time to stay with your current company, move to a new company, or change career fields completely. We also covered salary, location, and hours. We know what we want our next step to be.
Next, we covered why we want the things that we want. We covered what things are important to us and why and the fact that having a clear why is important for focus and motivation.
Now, on to part 3. The third question asks how we are going to achieve or attain the things we want and have determined are important. It's time that we develop our priorities, plans, and processes for attainment by setting SMART Goals. SMART is an acronym that stands for Specific, Measurable, Achievable, Relevant, and Time-Bound. The combination of these components turns your career wishes into a concrete, achievable career target.
Unclear goals are easy to ignore and difficult to reach, People with clear written goals accomplish more than others without them. This clarity helps eliminate time and energy wasters. When the outcomes are clear, daily actions are a progression toward where you want to be.

You do not have to walk alone on this journey. My GET PROMOTED Group Coaching Program was created specifically for women in mid-level management. I understand the unique challenges of leading from the middle. During our 6-weeks together, you will clarify your purpose, discover your unique value proposition, and have a solid plan to take charge of your career.
GET PROMOTED offers Mid-Level Managers:
Convenience of a virtual group coaching program
Support and Accountability [of like-minded professional women]
Biweekly Group Calls
Tailored Growth Assignments
Access to Resources
Special Coaching Hot Seats
Give yourself the gift of career advancement for Black Friday! Join the virtual GET PROMOTED Group Coaching Program to define success on your own terms, establish a clear career road map, and take strategic action to get promoted to the position of your dreams
GET PROMOTED launches virtually on Monday, December 9, 2019. Space is limited to 8. Don't wait to enroll. Join this dynamic group by November 29, 2019, for the one-time, special Black Friday investment of $497.00.
[The regular investment is $997.00.]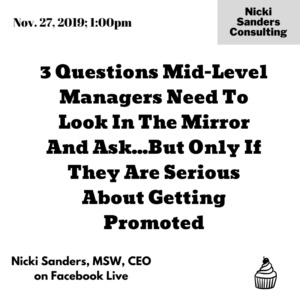 Nicki Sanders, MSW, CEO is a travel and cupcake lover with a passion for self-discovery and career advancement. She has an extensive background in developing and managing multi-disciplinary teams and successful internship programs. She is an accomplished supervisor, professor, coach, trainer, and group facilitator who has merged her Master of Social Work degree and 20 years of diverse work experience into a thriving business. Nicki Sanders Leadership Consulting helps businesses increase employee recruitment and retention and helps women in mid-level management develop the confidence, competence, and credibility to lead with bold authenticity.
© 2019 Copyright Protected. ALL RIGHTS ARE RESERVED.